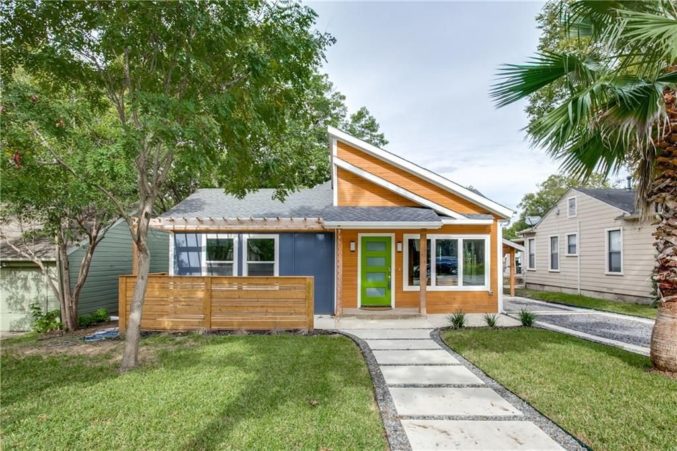 Hot Property: A Modern Makeover in Little Forest Hills
This '40s home got a serious facelift.
Did you know the motto for Little Forest Hills is "Keep Little Forest Hills Funky?" It is! Which is fun, I think, because Little Forest Hills is, in fact, pretty funky. The heavily treed neighborhood tends to attract the artistic set, who may be drawn to the colorful exteriors that line the streets. Newer, more modern homes still keep things decidedly funky, but the majority of residences were built between the 1920s and '40s. On occasion, one of those older homes gets a modern facelift. For an excellent example, see 8911 Diceman Drive.
Now, at first glance, I can see how this house might not be everyone's cup of tea. You can't just slap some geometric shapes onto a '40s-era home, repave the driveway, paint the door green (funky!), and call it modern (and up the price to over half a million dollars). But 8911 Diceman's facelift extends far beyond the facade. The interior is open and airy, filled with sleek finishes and a waterfall granite island whose stainless steel farmhouse sink and blue cabinetry would get it saved like crazy on Pinterest. Its soft color palette is a real mood, and contrasts interestingly with the home's bold exterior.
All that said, this listing may still not be your cup of tea (a floorplan that open isn't for all!), but there's something to be said for a home that really goes for it. You stay funky, 8911 Diceman Drive.