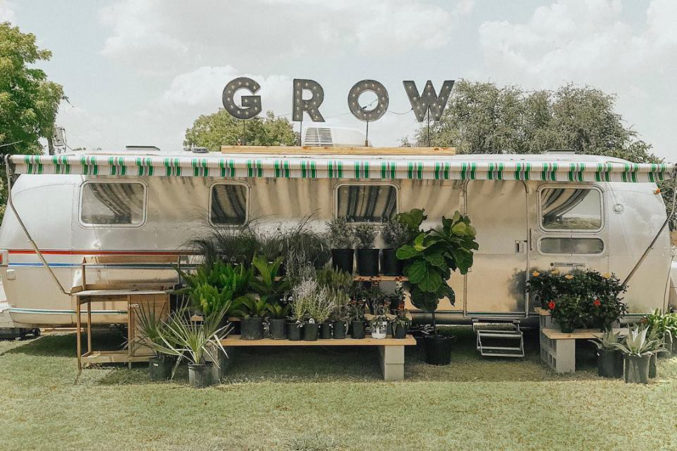 5 Local Boutiques to Hunt for Houseplants
These specialty shops are brimming with bonsai, Monstera leaves, and Instagrammable corners.
By Emily Heft and Taylor Presley
Published in Home & Garden
November 28, 2018
2:26 pm
As the popularity of chic houseplants continues to rise, more and more specialty plant shops have cropped up, each devoted to creating an indoor urban jungle. If you want to add a little green to your life, these five local shops are ready and waiting to help you select a perfect houseplant for your space, and will offer expert tips to ensure it stays flourishing.
Located inside of a renovated 1978 Airstream Sovereign, Grow offers consultation and installation services to give you top-notch product and experience. Warm up your home any time of year with the lush greenery of snake plants, Chinese evergreens, fiddle-leaf figs, and many, many more. Want to get your house holiday-ready for a festive dinner party? You can transform any venue with Grow's plant rentals. (You can even rent the shop's Airstream by the hour.)
View this post on Instagram
Oasis' owners, Bethany Mieth and Hannah Street, were longtime employees at Ruibal's, where they got their hands dirty learning the nuances of operating a nursery. This summer, the duo opened their own specialty shop in Bishop Arts  to create an approachable place for people to fall in love with plants. Mieth and Street are all smiles as they help customers navigate the plethora of plants they stock—and will even re-pot your final pick if needed. Not sure where to start? Oasis also offers in-home consultations.
View this post on Instagram
Though it's discreetly tucked among the Main Street shops in Fort Worth, The Greenhouse 817 is anything but unassuming. Owner Deryk Poynor grew up in her mother's garden, and her longtime enthusiasm for plants is evident in her bold creations. An array of succulents potted in stone may make for an eye-catching tabletop centerpiece, while a cactus in a minimalistic white bust will dress up any living room corner. This shop also offers accessories, including watering cans and wall pieces, as well as wick candles and coffee table books.
View this post on Instagram
Okay, Koneko Studio is not really a plant shop, but it's worth a visit, whether you leave with a tiny tree or a tiny vegan tattoo. The airy, modern studio offers vegan tattoo artistry, lashing, and piercings, but the front of the store is dedicated to cruelty-free retail. Shelves are lined with cult-favorite beauty brands (like Herbivore or Dr. Bronner's) and houseplants aplenty.
View this post on Instagram
Blink and you might miss the lemon-yellow cottage on Greenville Avenue that houses Sunshine Miniature Trees. The slight façade is deceptive, though. Inside, you'll find over 7,000 square feet of nursery space, filled to the brim with bonsai trees in varieties such as Banyan, Aralia Ming, Ficus, Fukien Tea, Juniper, and Black Olive. Plants vary in age and size — choose from a baby tree standing just a few inches tall or a ten-year-old bonsai that's been carefully coaxed into its current shape. The staff can also help you choose accompanying pottery along with plant food and accessories.
View this post on Instagram