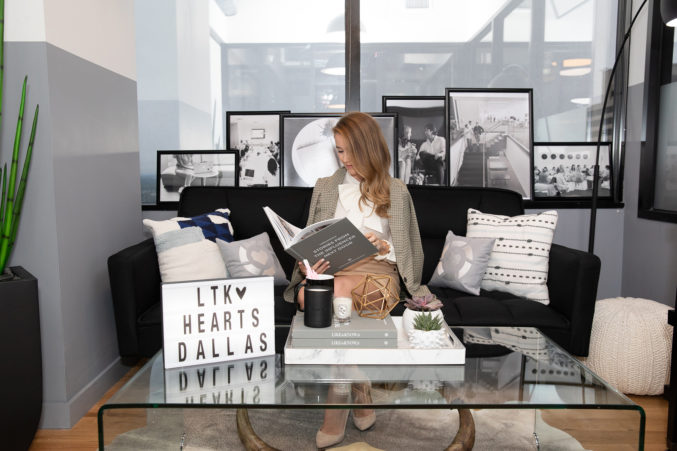 Experience LikeToKnow.It IRL in Dallas
rewardStyle's app is hosting a shoppable pop-up office at WeWork for the next three months.
You know how to LikeToKnow.It, right? Despite it's impossible camelCase, it's a pretty simple act. Essentially, it's a double tap on an Instagram, resulting in product details from said Instagram arriving in your inbox shortly after. When it's not being used as a verb, LikeToKnow.It is also an app — one that falls under the umbrella of Dallas-based rewardStyle (camelCase strikes again).
LikeToKnow.It is big for bloggers, whom rewardStyle has assisted by allowing them to monetize their blogs and Instagram posts, elevating a slew of side hustles to full-fledged careers. Several of those bloggers stories are now on display in rewardStyle's debut coffee table book (being tangentially related to such a visual industry, we assume this is the first of many), Stories from the Influencer Next Door. To celebrate, LikeToKnow.It is touring WeWorks across the country, hosting influencer panels and setting up Instagram-friendly pop-up shops in New York City, Chicago, Atlanta, Dallas, and beyond.
Now, I've worked in a WeWork office in West Hollywood, and as cool and current as I felt while doing so, that space was stark. LikeToKnow.It's pop-up offices, much like the app itself, offer excellent design inspiration for small spaces, as well as a free workspace for all local rewardStyle influencers to utilize through the year.
Take a virtual tour of style, 100 percent shoppable (all products were provided by Walmart)  Dallas pop-up  office (hosted in WeWork's Thanksgiving Tower location) by clicking the slideshow below. However, if you'd like to actually LikeToKnow.It the LikeToKnow.It pop-up, your best bet is to head here.