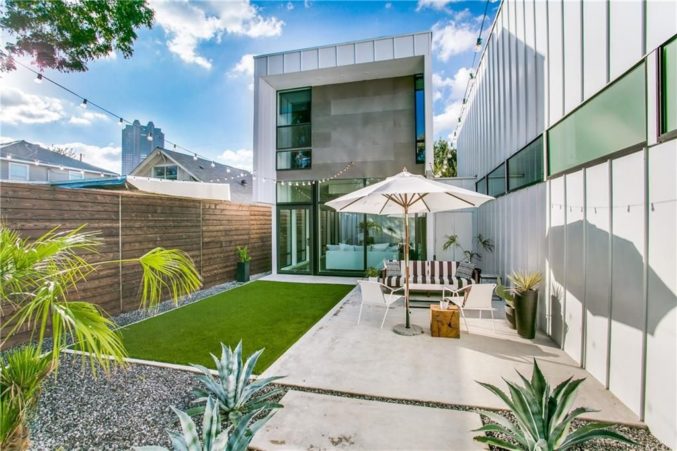 Hot Property: A Xeriscape-Approved New Build in East Dallas
This home is a master class in using your space (and backyard) wisely.
Driving around the section of Old East Dallas between Henderson and Haskell Avenue can be a trip. Each time you visit the area, things look a little different. There's always some new, towering towhouse or contemporary home from companies like LeComte, Fields Residential, or NIMMO. And though the architectural landscape is beginning to look concerningly homogenous, there is the occasional new build that stands out. 4322 Deere Street is one such example.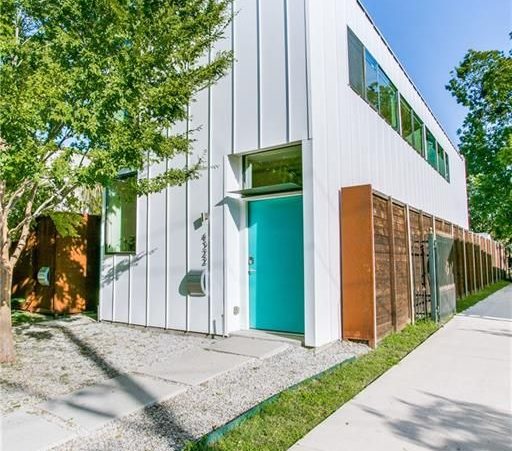 And it's not just that aqua door, though it certainly helps. It's also 4322 Deere's xeriscape lawn (unique for the area), and almost shipping container-style setup. It's the kind of place that piques curiosity about its interior. Can a home with seemingly such limited windows offer any warmth or natural light?
Well, yeah, when you lay it out as thoughtfully as AIA award-winning architect Josh Nimmo. The open concept allows the home to be flooded with light, which highlights the light bamboo flooring, shiny concrete, and stainless steel Viking appliances. Stark white cabinetry and walls keep things uniform but never feel too rigid, thanks to the uniquely laid out rooms, a minimalistic staircase, and  a ceiling that looks like a work of art.
4322 Deere Street is a master class in using your space (in the case, 2,000 square feet) wisely. Especially when you leave room for a large backyard patio with xeriscape-approved turf and an ideal setup for string lights.