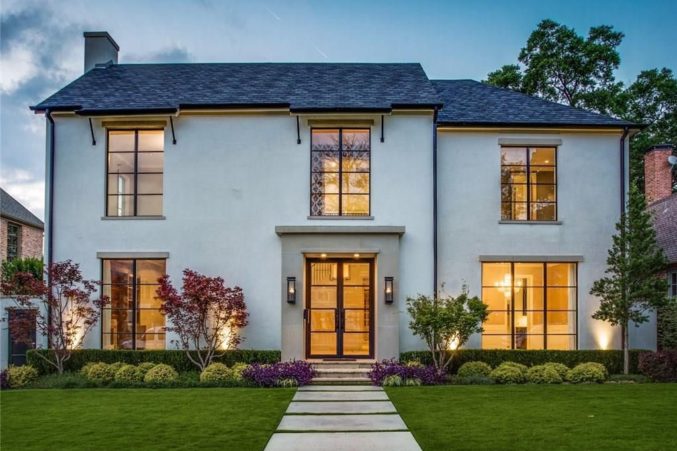 Hot Property: A Bright, California-Inspired Contemporary in University Park
From a yoga studio to a sunny, screened-in porch, this home has that whole cool West Coast vibes thing nailed.
Situated on prestigious Purdue Avenue in University Park,, this regal home (custom-built by Robert Elliott) stands out among its red brick neighbors. It's elegantly simple, with white stucco walls, a slate gray tile roof, and a steel and glass door frame. The façade is especially warm and welcoming as dusk falls, thanks to huge windows that spill the interior light onto the perfectly landscaped lawn.
Double glass doors open into a foyer adorned with herringbone wood flooring. To one side is an office with a shiplap accent wall; to another is a living room, with built-ins and a light stone fireplace. Continue exploring and you'll find five bedrooms, each with its own striking detail —think rainfall showers, floor-to-ceiling windows, and a full-body three-way dressing mirror (the dream).
The sun-soaked interior evokes a Santa Barbara style: white walls and marble countertops, dark wood accents, and contemporary brushed metal light fixtures. The current furniture–breezy yet refined, punctuated by rattan chairs and linen couches—feels right at home. A workout-slash-yoga room with mirrored walls is the finishing touch for this serenity-focused space.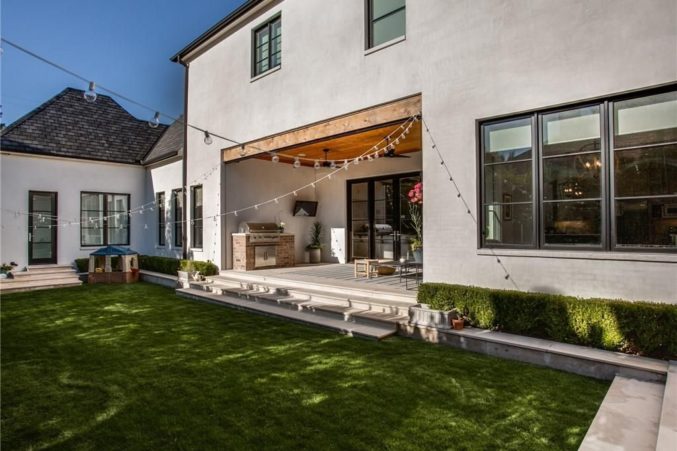 Despite the myriad of sophisticated details, this home does manage to be family-friendly. Our favorite feature of all? The three (yes, three) playrooms, each equipped with amenities like cozy window seats, built-in desks, and punchy patterned wallpaper.