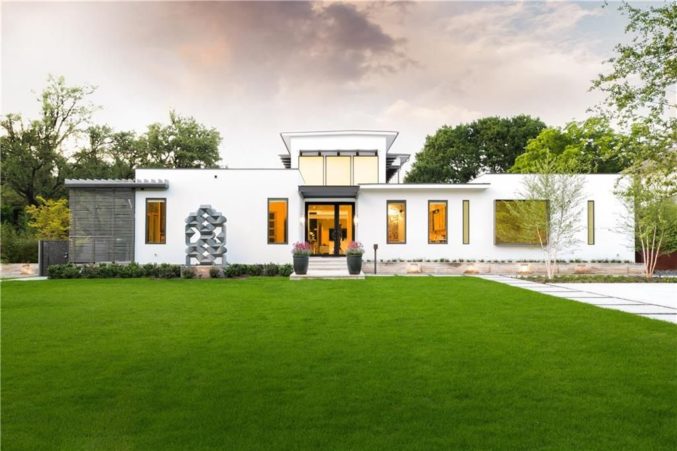 Hot Property: A Mod Masterpiece in Preston Hollow
Come for the fire fountain. Stay for the chef's kitchen.
In the dining room of this updated '50s-era Preston Hollow home hangs a print emblazoned with the words "Every Thing." I'm not totally sure if you're meant to read that with a space in it. "Everything" and "Every Thing" are not one in the same, but in the context of this striking space, the vibes of the message—space or no space—work in tandem. This house is everything and has, seemingly, every thing.
There's the clean-lined pool, hot tub, and fire fountain (fire fountain!) next to an exceedingly stylish and fully-equipped (island and all) outdoor kitchen. There's a wild copper backsplash situation in a sitting room which also features cobalt blue floating cabinets with (what I'm pretty sure is) a built-in espresso machine. There are two white marble islands in the kitchen, because why the hell not? They've got the space! We only get one very small glimpse into the master bathroom, but there's an egg-shaped freestanding tub on a pile of rocks and that's all I need to see to know I'd like to live there.
6607 Desco Drive is an indoor-outdoor living dream. I've never really understood what "industrial chic" is, but with its exposed metal beams, stainless steel, and Lucite, I'm pretty sure this home is it. Guys, it's everything. It's also $2,795,000. Hope you've been saving.