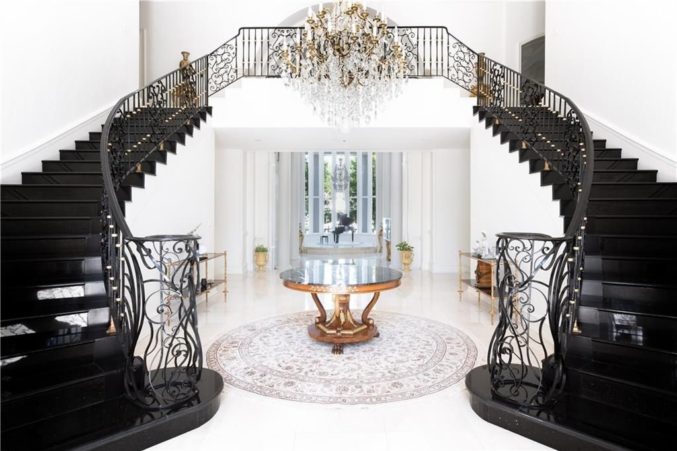 Hot Property: A Glamorous Old Preston Hollow Estate
The dual staircase is just the beginning.
What does glamour look like to you? Is it plush velvet sofas and tassel-lined curtains that Vivien Leigh would make into a dress? Maybe it's Carrara on Carrara and floor-to-ceiling windows with a view. I typically lean toward the latter, but there are certain homes that, no matter your personal glamour preferences, are irrefutably opulent.
9006 Douglas Avenue, situated on a palatial lot in Old Preston Hollow, is one such example. It isn't surprising that it was built in the '80s, but I mean that in the best way. (Plus, someone has clearly done some meticulous work to update that kitchen.) Every inch of shiny marble flooring is matched with glossy wood paneling. For every crystal chandelier, there's a piece of 24-karat plated hardware. There's an Old Hollywood-style theater room, complete with black curtains, red velvet recliners, and candelabra-style sconces, a two-story library with more mahogany than you can shake a non-mahogany stick at, and black-and-white marble entry with a dual staircase that Kris Kardashian would totally, like, just die over. We don't even have time to get to the sport court and that pool.
It's something else! And in typical "something else" fashion, the house doesn't come cheap. But this is Old Preston Hollow-level glamour with a window-lined enclave designed specifically for a baby grand piano. This is Dallas!
But even if you don't have room in your budget for the 18,000-square-foot estate at this moment, you can still treat your eyes to a little Tuesday opulence.