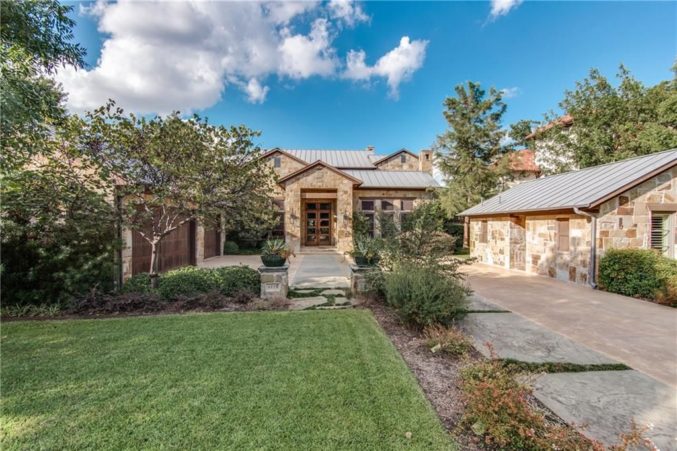 Hot Property: Wade Phillips' Preston Hollow Home
It's a Texas Hill Country-style delight.
On January 9, 2018, former Dallas Cowboys coach Wade Phillips randomly tweeted out a Preston Hollow home address. Commenters were quick to conclude that Phillips, who has historically been a pretty straightforward tweeter, had not in fact been hacked, but was instead announcing the sale of his home. We may never know why he chose to be so cryptic (maybe he's bummed about selling it!), but we do know that 6115 Norway Road is a Texas Hill Country-style delight.
Built by Ryan Osborne in 2006, the wood- and stone-heavy home backs right up to Saint Mark's School, which I guess could be good or bad. (Pro: well-appointed campus. Con: sixteen year olds are typically garbage drivers.) It's also situated just three miles from Tom Landry's former home  — Cowboys coaches love Preston Hollow.
Inside, an elegant staircase leads to a simply massive master bath, there are beamed ceilings (both cathedral and flat) galore, and a theater room is lined with the kind of 80s-inspired wackadoo carpet that would actually be in a movie theater. We mentioned the high levels of wood and stone before but it warrants reiterating — it's everywhere and it's beautiful.
Outside, there are two things to note. First is the attractively landscaped outdoor area with a glorious patio, pool, and hot tub. The second is a guest house which Phillips reportedly built with his mother-in-law in mind. It's not technically a mother-in-law suite as it's completely separate and inexplicably located in front of the main house, but it was built with a mother-in-law in mind, so do with that what you will.
House hunters or voyeurs, head to our slideshow to witness it all for yourself (or stop by the open house this Sunday). Then keep an eye on Twitter, which we guess is a place where people announce the sale of their homes these days. Social media, man!