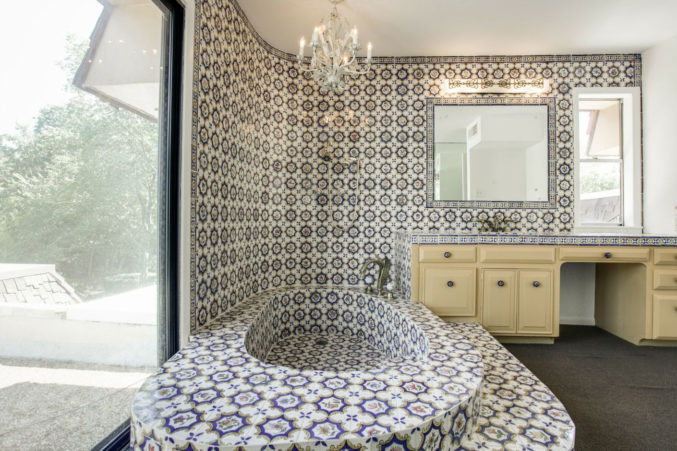 Hot Property: History-Filled Hilltop Oasis in Bluffview
Sir Paul McCartney swam in its pool, and so can you.
Full disclosure: 8740 Canyon Drive has already been a "Hot Property." But you know what, it's been a minute, it's back on the market, and Look. At. This. House. The Santa Fe-inspired, 1930s jewel deserves an annual online feature, but we can only do it when the home is for sale, of course.
So do it we shall!
The Bluffview property underwent a stunning remodeled in the 60s by its architect owner, Parker C. Folse Jr. Highlights of the home include crossbeam ceilings, an antique front door, a memorable mid-century fireplace, a really cute wet bar with Hermes orange doors, and a crazy cool tile-filled master bath with a dragon-shaped faucet. (We somehow neglected to mention that faucet last time.) It's a lavish, totally transportive hilltop dream, complete with an inviting backyard pool that Mathew Perry may or may not have taken a dip in.
That wasn't a totally random name drop just now. This home also has a truly illustrious list of house guests, which includes Sir Paul McCartney, Rock Hudson, Stevie Nicks, Larry Hagman, and yes, the man who introduced the world to Chandler Bing. I have no idea why—those details aren't readily available online—but I don't question it. If I was Perry I'd totally stay in this Hollywood-appropriate house. I'd get intimidated trying to start up that massive wood-burning fireplace and get a kick out of the dragon faucet. I wouldn't dare go near the kitchen because it's massive and looks commercial grade. At the start of each day, I'd look out at the tree top-lined views of the living room and think to myself, Could this BE anymore Bluffview?