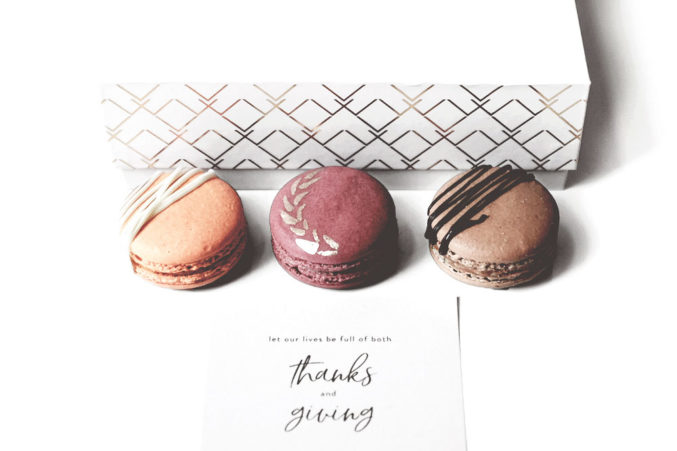 Four Last-Minute Hostess Gifts to Snag in Dallas This Week
One less thing to worry about.
Unless you're playing host this year, you're presumably going to be a guest in someone's home in just a few short days. Someone will cook for you, plan fun activities to stave off post-turkey ennui, and craft a cozy environment for you to lay your head at night. Naturally, you want to be a good human and offer them a thoughtful gift.
But time is limited, and you needed to order one of those perfectly culled gift boxes weeks ago to have it in your hands by Thursday. Fret not! Here, we've gathered a few fresh offerings you can pick up in Dallas so you don't end up bringing an IOU to your host. (The shame.)
1. Limited Edition Thanksgiving Macarons from We the Birds
It's hard to resist We the Birds' fashionable confections. The two stylish sisters behind the custom macaron company have crafted French treats for Forty Five Ten, Miron Crosby, and more, and blessedly created a Thanksgiving-themed box ($20 – $36) for holiday gifting. Enjoy flavors such as Pumpkin Pie and Cranberry Port at just 50 calories a gluten-free serving.
Order fast though; these boxes won't last.
2. A Set & Co. Gift Box
Everything in the Oak Cliff kitchen store is perfectly giftable (for reference); so much so that it can be a tad bit overwhelming to choose. Luckily, the shop can cull the perfect little wooden box (topped off with a small bouquet of Texas flowers) filled with pantry goods, bath essentials, and more items suited for a post-holiday pampering sesh.
3. A Grab-and-Go Bouquet from Avant Garden
Todd Fiscus' beautiful new floral boutique just opened its doors in The Shops at Highland Park, but Avant Garden fans on the move can quickly snag a Fiscus' approved arrangement at Royal Blue Grocery's Orchid Bar and Floral Department in Highland Park.
4. "Consider Yourself Served" Tray from Read Between the Lines
A fun, functional nod to all the inevitable serving.
SaveSave
SaveSave
SaveSave