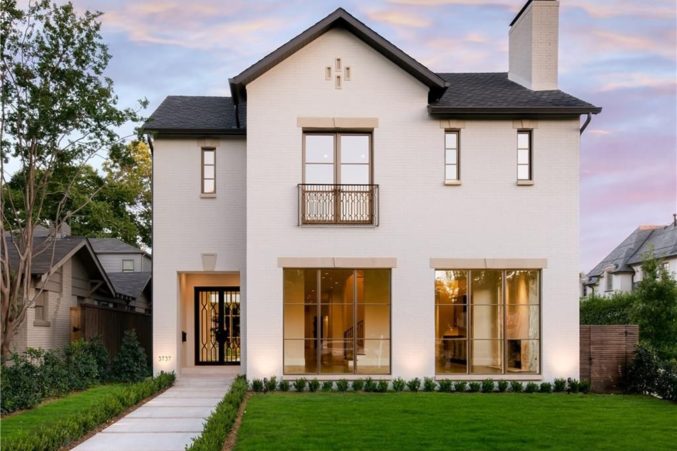 Hot Property: Clean and Simple New Build in Highland Park
Less is more in this minimalist home.
Architecturally sharp yet wonderfully cozy, 3737 Normandy is the sort of house that beckons you to slow down as you drive by. The façade is plain, but in an elegant and purposeful way; the focus is a pair of huge windows offering a peek at life inside. Swanky cocktail parties, family gatherings by the fire, presents piled under a tree — we can envision a series of vignettes, like snapshots of an idyllic suburban life.
Inside, a simple interior evokes both beauty and versatility. It's a space ready to welcome any style of decor, but able to hold its own with none at all. Floor-to-ceiling views of the lush green yard are like built-in gallery art. Gleaming wood floors bounce sunlight onto crisp, white marble fireplaces and futuristic gray slate accents. Staircases lead the eye upwards, spiraling towards high ceilings and modern chandeliers. In short, this Highland Park home is the prettiest blank canvas we've seen in a while. We'd love to step inside, but the curbside view will do just fine for now.
By the Numbers
$3,100,000
2017 (Year Built)
6,437 Square Feet
4 Bedrooms
4.2 Bathrooms
3 Fireplaces
2 Parking Spaces