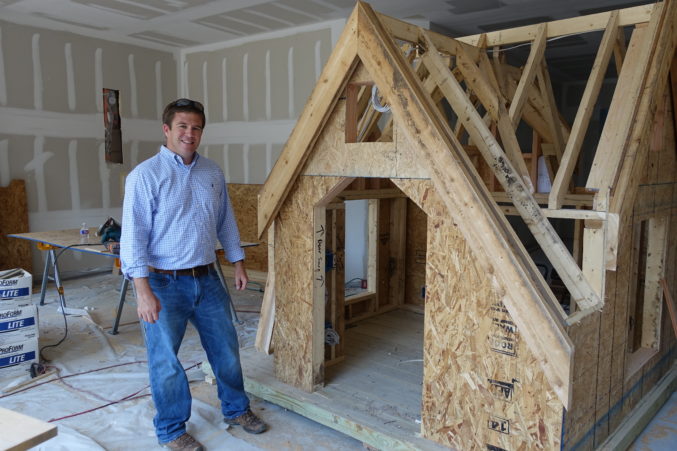 CASA Playhouses Brighten Future for Kids
Builder Les Owens donates his eighth playhouse to Dallas CASA's Parade of Playhouses.
By Kristina Valdez
Published in Home & Garden
June 23, 2017
12:00 pm
By July 7, NorthPark Center will be overrun with children's playhouses. Unique and thoughtfully built playhouses are donated to Dallas CASA's Parade of Playhouses to fund volunteers who help abused and neglected children find safe, permanent homes. Builder Les Owens is working on his eighth playhouse for the program. He told us what it means to collaborate with Dallas CASA.
"Building these playhouses makes you really appreciative of what you have," Owens says. "You have to realize that there are a lot of kids and families who don't have these houses we are building, and it shows us some of the things we can take for granted."
Les Owens is the founder of LRO Residential, building luxury homes in neighborhoods such as Preston Hollow and Park Cities. After the birth of his first child, Les, Owens built his first playhouse—a whimsical Dr. Seuss inspired house—with the help of architect Brian Easley. Today, Les is still committed to the event.
"My wife and I talked about how cool it would be to do one every year that our kids are growing up," Owens says. "The span would be about 23 years."
Over the years, Owens and Easley have designed a variety of playhouses ranging from a ski lodge, a fire station, and a barn. This year's design will be a whimsical cottage equipped with electrical plugs, oak flooring, and light fixtures. Owens hopes to design a playhouse one year with walls that can support a small TV.
"This works really well with our business," Owens says. "Our roofing guys and electricians get into it. For the first couple of years, it was a learning curve, but it's just like building a house."
The creative process starts in February. He and Easley first think about last year's playhouse, what is popular with kids, and what they want to do differently. "I don't do things halfway," he says.
This year's build is already underway. Soon, children walking through NorthPark will be pressing their faces up to the glass of Les and Brian's whimsical cottage, hoping to win the raffle for the playhouse. "We hope to raise a lot of money for CASA through ticket sales," he says. "And that's what it is really all about."
The 22nd annual Dallas CASA Parade of Playhouses will be open July 7 to July 23 at NorthPark Center. Raffle tickets are $5 and will be sold online and at ticket tables in NorthPark for the chance to win a playhouse. All proceeds go to Dallas CASA.