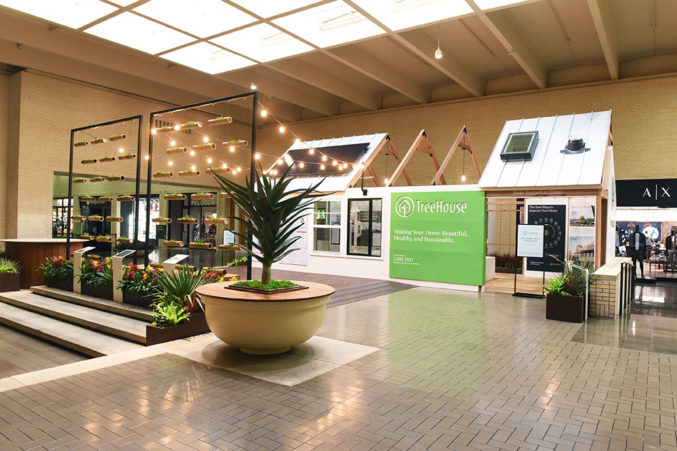 Visit TreeHouse's Tiny Sustainable Home in NorthPark This Spring
The "Whole Foods of home improvement" constructed a striking exhibit ahead of its Dallas opening.
There's a lot to learn about TreeHouse. The Austin-based home improvement company's second store (which, by all accounts, will be considered the company's flagship) is opening in The Hill in Dallas this June inside the first energy-positive building (makes more energy than it consumes) in the country. That's certainly something. TreeHouse is also the first retailer to offer the Tesla Powerwall (aka a very powerful home battery), and a slew of other exclusives, like Whirlpool's Zera™ food recycler (it's really pretty), and Knauf Insulation's white, fluffy EcoFill.
It's a lot to take in, and we'll have more details for you soon, but before I parenthesize anything else today, I highly suggest you take a trip to NorthPark Center, where TreeHouse constructed a sustainable home of the future in front of Tesla Motors' storefront, naturally. Personal highlights include a water-conscious showerhead that actually works, and the most efficient (and possibly the sexiest) ceiling fan in the world.
Be prepared: you will be inspired to make your home smarter immediately. For now, just take this virtual tour of the future storefront, and stop by TreeHouse's NorthPark outpost through the end of May.