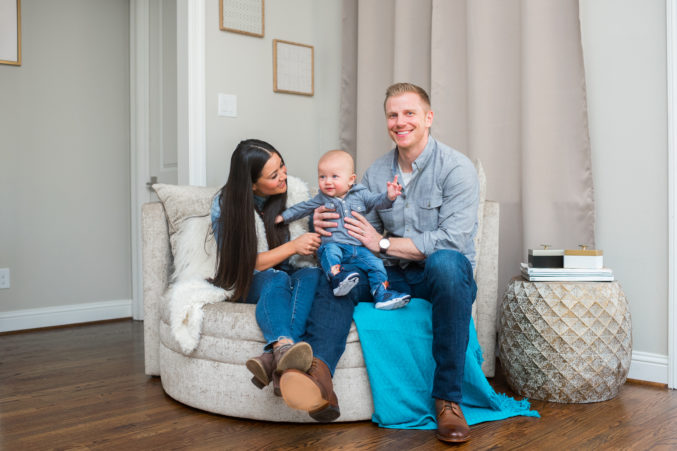 Dallas' Sean and Catherine Lowe Unveil Their Own Furniture Line
The Bachelor couple's collection blends a modern aesthetic with family-style comfort.
By Emily Esleck
Published in Home & Garden
April 5, 2017
11:00 am
After stealing our hearts on season 17 of The Bachelor, Sean and Catherine Lowe continue to charm through their Instagram. Namely with Samuel, their adorable son, but also with intimate shots of their family in their cozy Dallas home. After social media exploded with envy over a massive six-piece sectional the couple designed with help from a friend in the furniture business (and lovingly deemed "The Pit"), the Lowes decided to create their own family-inspired furniture line, starting with a cozy living room collection that will be available on Wayfair.com for the next 90 days.
We caught up with Catherine and Sean to get the scoop on the family-loving furnishings that Sean dubs "slo-zy" (sleek and cozy) and Catherine describes as "sophisti-comfortable."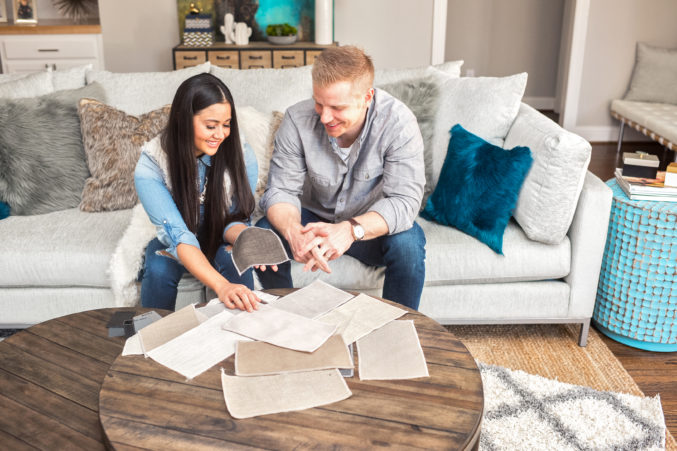 Why did you start a furniture line? Take us through your thought process.
CL: We noticed that once we started posting pictures of just that normal, daily life people were interested in what we were lounging on. That's what really sparked our interest in making a whole collection based around home, family, entertaining and really just comfort with luxury.
How long has the project been in progress, from start to finish?
SL: We started talking about it a little over a year ago and the wheels have been in motion for probably 13 or 14 months. There's just so much that goes into it as far as designing, figuring out what type of pieces you want, finding the right manufacturer. Really it's been pretty time consuming, but I'm so glad we're at the finish line. We think that it kind of capitulates us and our lifestyle and what we're all about, being centered on family. We're excited to share that with everyone.
How did you guys decide the color scheme and different finishes for the pieces?  
SL: Together we looked at a million plus swatches, metals, fabrics. There were so many choices and ultimately, we wanted a few things. We wanted something that was going to be durable with the family in mind, especially us having a nine-month-old son. We wanted it to be super soft, something that's comfortable, that allows you to just sit there and watch a whole movie and just kind of zone out, veg out. But it also had to be really sleek, and it had to be eye-catching.
CL: Also, throughout the whole process we wanted to make sure that every family could enjoy it so thinking about what their lifestyle looks like and what their living room looks like.
Are any of the pieces inspired by your life at home as a family with Samuel?
SL: As soon as we got engaged after The Bachelor finished airing on TV, it was finally time we could be out in public together, but we found out pretty quickly that we had one, big similar interest:  binge-watching great TV shows. Breaking Bad was the first show we ever watched together. That has not stopped. In fact, I think we've binge-watched every show on TV to date. And that's kind of what inspired our Chelsea piece.  ("The Pit") We still do that today with Samuel.
When selecting cushion material, what was your goal? How did you choose cushion-type, and how comfy are your pieces?
SL: Those were discussions we had with our manufacturer. We really wanted something comfortable, so we went through all the options with them and we decided what was best for us and our brand. We wanted something that was going to last for a long time, that was really durable and really soft. That's why we went the cotton route.
CL: It keeps its structure really well but also is very plush.
What do you expect from this new venture in your lives?
SL: I hope people love what we have to offer. We look forward to designing more pieces and expanding our collection. We're also interested to hear what the buyers' feedback is, if they'd like to see other things. I think we can continue to design and create quality pieces that people like.
CL: Home by Sean & Catherine Lowe has such a potential to be a lifestyle brand that everyone loves. Sean and I have a very unique perspective on home and design, where we agree on a lot of things. Coming from two completely different backgrounds, it's really nice to have that neutral ground that we know a lot of people will love.
*
Emily

Esleck is a D Magazine Editorial Intern.