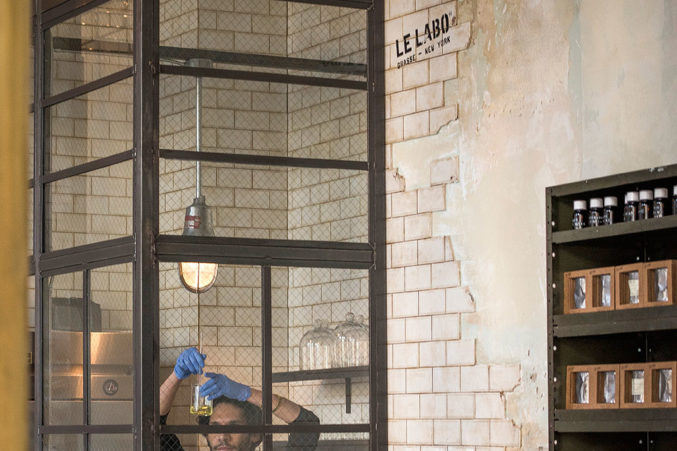 Inside Le Labo's Return to Dallas
Co-founder Fabrice Penot talks Forty Five Ten, Aldehyde 44's comeback, the magic of Le Labo.
Forty Five Ten's much-anticipated move to downtown Dallas brought an array of exclusive designer merchandise to Main Street, and in the case of Le Labo, it reintroduced some fresh faces as well. The fine fragrance company's sweet-smelling selection was sorely missed when their only Dallas outpost departed with Barney's back in 2013, but with a brand new counter at Brian Bolke's gorgeous department store, and a chic storefront beneath The Joule, Le Labo is back in a big way.
We reached out to co-founder Fabrice Penot, to learn more about Le Labo's return, which includes Aldehyde 44, a scent sold exclusively in Dallas.
Le Labo has had a presence in Dallas when Barneys was in NorthPark Center. Would you be able to tell us a bit more about that?
It is interesting because Dallas was surprisingly the second location after Barneys New York we opened 10 years ago, even before Colette in Paris. When [Barneys] closed, we closed with them and were waited for the right timing to come back.
Then Forty Five Ten happened.
Tell us more about the collaboration between Forty Five Ten and Le Labo.
I met with Brian about 18 months ago and he told me his project. I thought to myself, this guy has a vision, he gets it, we should try to dance together. We talked further, and I realized that it was going to be really hard to fulfill our concept of fresh blending on site at Forty Five Ten for many reasons. The only solution would be to build a full operating lab across the street. That's a big bet and a big investment, but that's the way Le Labo has been built, with bold bets and strong retail collaborations.
Sales associates are responsible for far more than just customer service at Le Labo. What is the training process like for them?
Of course we train our staff on smelling techniques and essential oil knowledge, but the most important part of their job is not being experts in the perfumes themselves, but to be capable of true empathy and to be able to connect deeply with our clients and guide them in picking the right creation. These are not the kind of skills you can train people for; you either get it or you don't. That's why we spend some much energy looking for very special souls for our stores.
It takes sensibility to build the space and energy to let the magic happen—that's their main objective. Sales are just a byproduct.
Is there a fragrance option that's exclusive to the Dallas location?
Yes, the discontinued Aldehyde 44 is being resuscitated with our return to Dallas. A lot of fans from the early days are excited.
Forty Five Ten is sparking a bit of a renaissance downtown. How does Le Labo hope to factor into that?
We bring our craft to this neighborhood, the same way we do in Venice, New York's West Village, Shoreditch in London, and more. Though we don't think so much in neighborhoods (we are not a traditional retailer in that sense), our followers will find a way to get to us wherever we are, and that's our own little luxury.