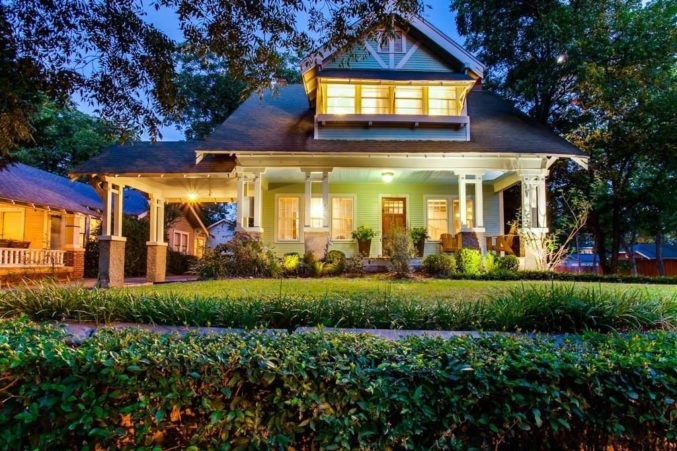 Hot Property: Updated Winnetka Heights Craftsman
Turns out you can revise history.
There's a scene in the first season of You're the Worst where Sam (who is the best) touts the general sexiness of a Craftsman home. "My piano teacher growing up had a Craftsman," he says. "I used to sit on that bench and pray, 'God, please let me have a house like this some day.'" He also goes on to make an amusing joke about the difficulty of learning Joplin's "Maple Leaf Rag," but this isn't a post about an underappreciated FXX dramedy, this is about a really good looking house in North Oak Cliff.
In fact, this house is so good looking that its slideshow is difficult not to revisit. Sure, that mint-green exterior might be off-putting to some, but just a few clicks in reveals a rich palette of dark green and navy blue that beautifully complement the 1920s home's gorgeous wood used for both the floor and the ceiling. It's visually addicting! The real treat, however, is any room that involves a sink (though that window-lined bedroom isn't too shabby). Whether they're filled with hexagon tile flooring, marble counters, a Bertazzoni range, brushed gold accents, and an original claw-foot tub, each room where a hand could be washed is a feast for the eyes.
Sam would approve.
By the Numbers
$550,000
2,215 Square Feet
1925 (Year Built)
4 Bedrooms
2 Bathrooms
2 Fireplace
2 Covered Parking Spots
1 Guest Quarters (with full bath)