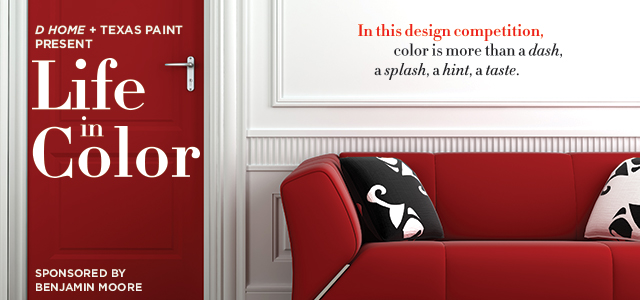 Life In Color Submissions Are Due Now
Hop to it!
Okay, designers. You actually have a bit more time than that headline implies (until April 31 to be exact), but a sense of urgency is important. Especially when that sense of urgency could lead to fabulous prizes from our contest sponsors Texas Paint and Wallpaper and Benjamin Moore, and seeing your designs published within the pages of D Home's July/August issue.
We've already glimpsed a few glorious entries, but if you've yet to show us your latest, here's how you can do it. Gather together your most eye-catching, colorful work from the last five years, then head over here (or simply scroll down) to read some rules, fill in some blanks, and submit beautiful photos of your splashy selections by the end of this week. Hop to it!
—