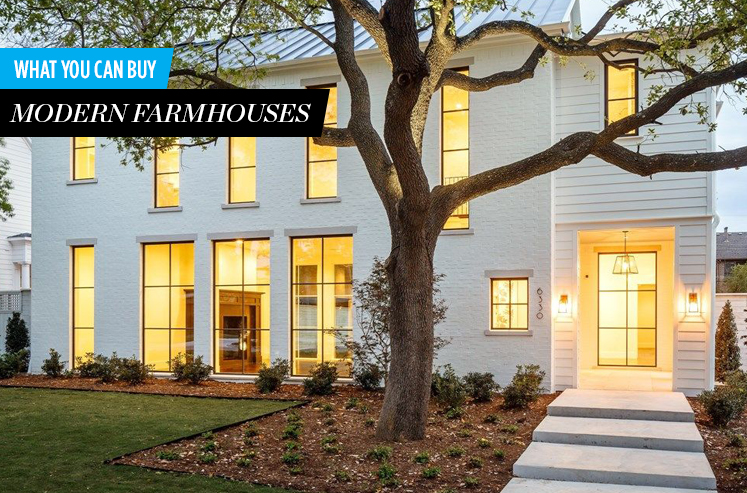 Four Swoon-Worthy Modern Dallas Farmhouses
Not a cow in sight.
One of D Home's most popular posts in 2016 thus far was this Hot Property featuring a modern farmhouse in North Oak Cliff. The juxtaposition of classic rustic elements and sleek contemporary design was a match made in real estate eye candy heaven, and hooked us on this home design trend for good—or at least long enough to scour the Internet and round up available modern farmhouses around town. Here's what we found.
Neighborhood: Preston Hollow
Price: $2,199,000
Numbers: 5 Bed / 5.3 Bath / 5,595 Square Feet
Highlights: This SHM Architects-designed home looks like a pretty piece of perfectly proportioned wedding cake, which is lovely. Apart from a couple of blue wallpapered bathrooms, the interior is just as white and pristine as the façade.
Neighborhood: Lower Greenville
Price: $839,900
Numbers: 4 Bed/ 3.1 Bath / 4,038 Square Feet
Highlights: The bright yellow door is a wonderful accent. There's also huge walk-in closet and a shower—the likes of which we rarely see in Lower Greenville.
Neighborhood: Lakewood
Price: $1,474,990
Numbers: 4 Bed / 4.2 Bath / 5,132 Square Feet
Highlights: Connecting the high-ceilinged living room and the pristine backyard of this home are soaring, modern accordion doors, which we now want to replace all of our doorways in all of our houses.
Neighborhood: North Oak Cliff
Price: $597,000
Numbers: 4 Bed / 3.1 Bath / 3,691 Square Feet
Highlights: The contrast between the dark hardwoods and the brightest white walls, cupboards, and backsplash is pleasing to the eyes, but the real highlight here is the upstairs screened porch and its stunning views of Kessler Park.