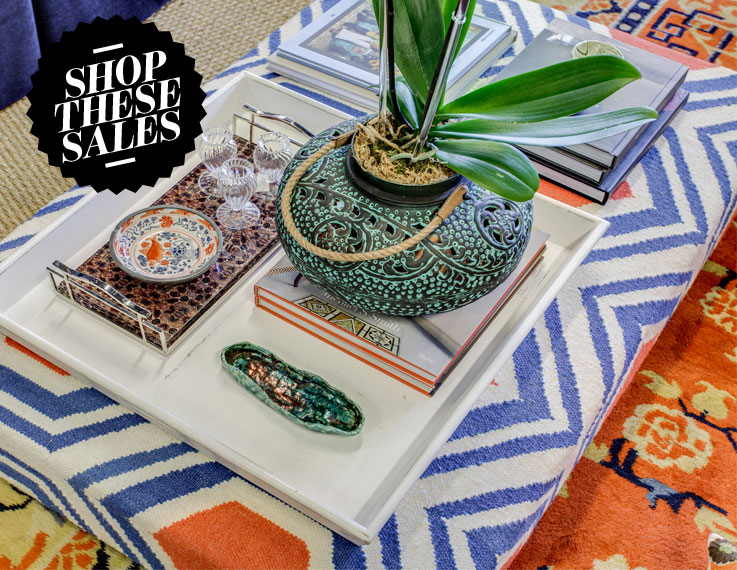 Five Dallas Design Pop-Ups and Events to Hit This Weekend
Oh you like shopping, do you?
Oh you like shopping, do you? Well, you've come to the right place. This week, we're rounding up some of the best Dallas sales, pop-ups, and events to help you plan the your weekend.
Calypso Blue Organics Party at Urban Manor // Thursday
If you've yet to stop by The Urban Manor, here's the perfect excuse to visit the posh new Slider Plaza shop. Calypso Blue Organics, a locally made high-quality skincare line, will be hosting a little shopping soiree inside complete with appetizers, cocktails, and prize drawings from 6-8pm.
Thrift Studio // Friday – May 7
One of our favorite annual events if finally coming back to us: Dwell with Dignity's Thrift Studio. The temporary pop-up will bring sure-to-be glorious—and heavily discounted—designer vignettes to the Design District, including showings from Jean de Merry, Benson-Cobb, Kravet, Robert Allen, Scout Design Studio and more.
Shamsy and Wheron Pop-Up // Saturday
Local printmaker, illustrator, and all-around flora goddess Shamsy Roomiani will be popping up for a one-day event at The Platform, where artist Wheron (whose unique cacti illustrations can be seen throughout town) will be hosting an open-studio. Stop by to soak up a little creativity and shop Shamsy's latest nature-inspired prints from noon to 8pm.
She, In the Making // Sunday
Are you ready for the loveliest sounding Sunday afternoon? Here's how it'll go. You'll spend the day in The Akola Project's beautiful Deep Ellum space, where the talented Kelsey from She, In The Making will show you the basics of lettering and help you digitize your work. Everything a person could need will be provided, along with tasty sips and treats. See. Lovely!
Urban Bazaar on Bishop // Sunday
Looking for another equally appealing Sunday activity? Head out to Bishop Arts, where Little D Markets will be hosting their latest Urban Bazaar on Bishop from noon to 8pm. The family-friendly afternoon includes handcrafted goods from local vendors such as Wayne Works, f. is for frank, Lala's Cakes, City+Sky, Gaston Made, Pop Star Popsicles, and more. It's the perfect spot to grab a Mother's Day gift, and the perfect reason to brunch in Bishop Arts.