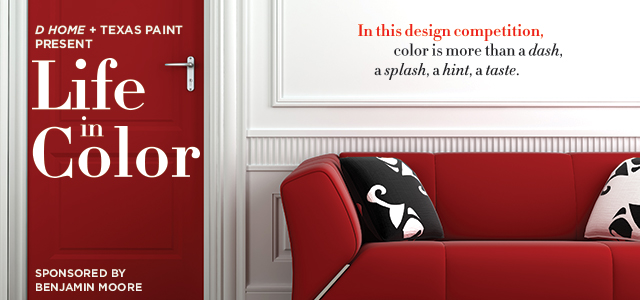 Enter Our Life in Color Contest Today
Our colorful competition returns.
Summer is coming, which means our annual game of tones has officially commenced. (Sorry, we had to.) Come May 1, we'll work with our friends at Texas Paint & Wallpaper and Benjamin Moore to select the city's most stunning, color-filled spaces to put on display in D Home's July/August 2016 issue. But we need your help, Dallas designers. Or rather, we need your colorful rooms.
Here's how it works. If you've completed a room (or rooms!) in the last five years that's bold and bright, inventively neutral, or somewhere in between, go right ahead and click here or scroll down to read our rules and upload some photos. Endless glory, fame, and the chance name a custom paint color awaits you.
—
Submissions for the contest have closed.