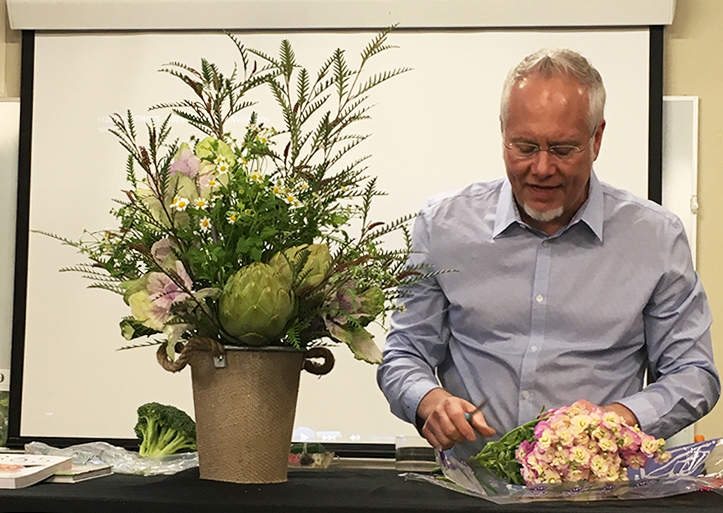 Six Things Floral Design Master J Schwanke Taught Us
In honor of Floral Design Day (February 28)!
Over the weekend, I had the opportunity to sit through a flower arranging demonstration at the Dallas Arboretum.
J Schwanke,  flower expert and author of Fun with Flowers and Bloom 365, was our passionate, wonderfully zany teacher for the day. For two hours, we listened to his tips, tricks, and stories from his childhood (he was born at a flower convention) while he created beautiful arrangements with flowers and vegetables.
After leaving the class, I headed straight to Central Market to pick up some flowers and try my hand at it. I'm Alison Glander, and I'm hooked on flower arranging.
In honor of Floral Design Day (February 28!), I'm happy to share the six most important things I learned.
1. Arranging Your Own Bouquet Is Actually Pretty Easy
In the palm of your hand, layer each flower on top of the other at a 45 degree angle, alternating left and right. Once you have achieved the thickness of bouquet you want, tie where they all cross with floral wire. Voila!
2. Use Clean Flower Buckets and Vases
When J makes television appearances, people at the studios ask his team what he's like. Is he nice? Will he be demanding? They respond: "J is nice, but make sure the flower buckets are clean." If whatever container you're putting your stems in isn't clean, bacteria will continue to grow and kill your flowers.
3. If a Whole Leaf Is Submerged Under Water, Rip It Off
When leaves remain underwater, they decompose and bacteria grows. This further supports J's belief that you must keep bacteria at bay if you want your flowers to last.
4. The Colder the Water, the Better off Your Flowers Will Be
When you want to cook broccoli, you steam the vegetable with warm water. This makes the broccoli wilt and soften. The same concept holds true for flowers. If you use room temperature or warm water, you're causing the flowers soften and wilt. Use cold water for the best results.
5. Use a Swiss Army Knife to Cut Stems at a 45 Degree Angle
When you cut flower stems with scissors, you are constricting the straw-like tube that allows nutrients to reach the top of the flower. J suggests using a Swiss Army knife for soft stems. Hold the Swiss Army knife in your hand parallel to your outstretched thumb. Insert the stem between the knife and your thumb and turn it until the stem hits the edge of the knife. Simply pull the stem forward to cut it at a perfect 45 degree angle. If stems are woody, use a pair of bypass cutters.
6. Measure Flower Food Precisely
So many people simply dump flower food into a vase with flowers. This is a huge mistake. If you put in too much flower food, you poison your flowers. If you put in too little flower food, you might as well use none at all. Use the directions on the packet to dilute the food in the correct amount of water.
For more tips, tricks, and DIYs from J Schwanke, visit ubloom.com.
*Alison Glander is a D Home/D Weddings Editorial Intern.