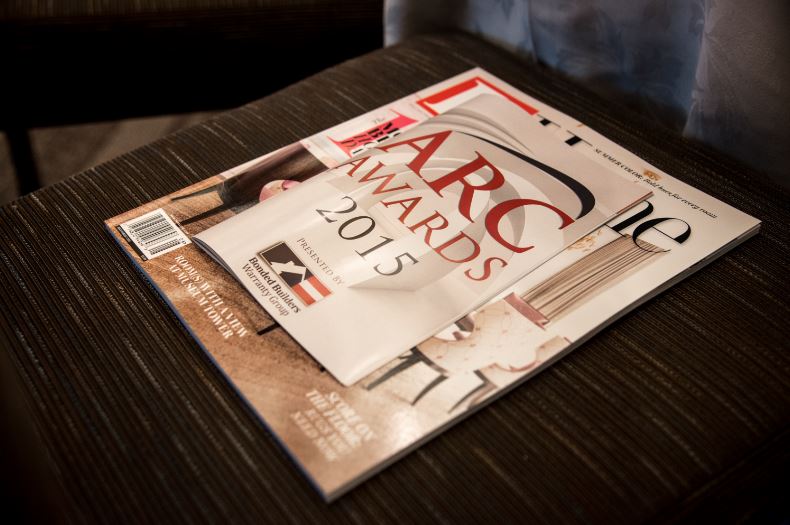 The 2015 ARC Awards: Excellence in Building
A big D Home congrats to the 2015 ARC Winners!
by Kambry Ruby

Every year, the area's finest builders, remodelers, trade associates, and other industry leaders gather to celebrate the achievements and innovative advancements of their peers at the ARC Awards. This annual event, sponsored by the Dallas Builders Association, honors and recognizes the award-winning work of luxury building and remodeling professionals in a variety of categories, including Best Conceptual Design, Best CAPS Remodel, Best New Home, Custom Builder of the Year, and Remodeler of the Year, as well as Best Outdoor Living Space and Associate of the Year.

The elegant 2015 ARC Awards gala, presented in partnership with Bonded Builders Warranty Group, was held at the Westin Galleria on August 15. For the homebuilding professionals in attendance, the evening was a chance for them to trade their everyday work attire for tuxedos and evening gowns and catch up with friends and fellow industry leaders in an Academy Award-like setting. Following a cocktail hour and gourmet dinner, custom builder Tim Lansford of Luxury Homes of Texas served as the master of ceremonies as the nominees and winners were announced. Cresswell Builders won the Remodeler of the Year award, and Classic Urban Homes was named Custom Builder of the Year for the second consecutive year.
Partners for the 2015 ARC Awards were Bonded Builders Warranty Group, Stellar Home Theater and Beyond, The Bath & Kitchen Showplace, Ferguson Kitchen, Bath & Lighting Gallery, Tempo Mechanical, Tex Energy Solutions, Lights Fantastic Pro, Frisco Wholesale Lumber, MLAW Consultants & Engineers, Pape-Dawson Engineers, Staz On Roofing, Texas Counter Fitters, Texas Door & Trim, The Thompson Group at Classic Chevrolet, ZIP System/Advantech Flooring, Capital Distributing, Fox Energy Specialists, Garland Insulating, Riddell Plumbing, Signature Floors & Interiors, Southwestern Carpets, Daltile, Fashion Glass & Mirror, John Lively & Associates, Walker Zanger, Legacy Texas Insurance Services, Tri-Tex Cabinets, Zetley Distributors, D Home, and McShan Florist.
A big D Home congrats to the 2015 ARC Winners. Click on the slideshow to see a sampling of their work.