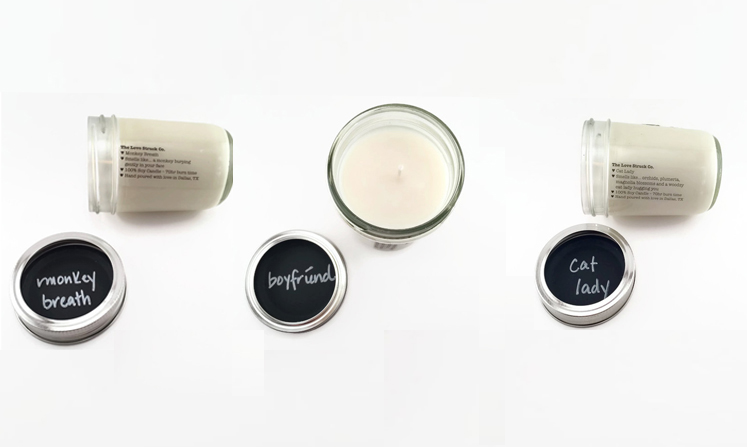 5 Questions With Local Candle Queen, Love Struck Co.'s Jennifer White
Get better acquainted with this master of wax and her clever line of candles.
It's not always easy to stand out in the candle business. There are infinite businesses embedding wicks into wax these days. This is precisely why Dallas-based The Love Struck Co. caught our interest. With more than 150 Texas vendors at The Dallas Flea earlier this month, Jennifer White's candle outpost was a standout.
Why the infatuation with Love Struck? The packaging is a big draw. Though the soy candle-filled mason jars are decidedly unflashy, they each possess a clever name that perfectly aligns with their lovely scents. We were big fans of "Boyfriend" and its alarmingly accurate claim that it smelled like "The good kind. The one with the job."
The Love Struck Co. recently introduced a solid collection of holiday scents ranging from a cinnamon-infused "Santa Baby" to the variable bonfire in a jar that is "Flannel." To celebrate this local goodness, we asked White to answer five questions to get you better acquainted with this master of wax.
How did get into the candle making game?
I collect candles like people hoard cats. I'm always on the hunt for the perfect scent, so I finally decided to just jump in and create my own. My friend used to own a handmade store in Arkansas, and he needed someone to make candles for him. It was the perfect way for me to test out the waters and get feedback from the community. It's been a lot of fun and a great creative outlet for me. I can make soy candles exactly how I want them, free from phthalates, additives or dyes.
How do you come up with the cute/funny/weirdly spot on names for your candles?
That is my favorite part of the entire process. I love the connection between the names, descriptions, scents and making people laugh. I usually create the perfect scent first, and then the candle name just comes to me, like Boyfriend. As soon as I made that candle I knew exactly what we were calling it. It smells just like a Boyfriend. The good kind. The kind with a job.
What was the first scent you ever perfected? As a feline owner, I believe your Cat Lady candle to be perfectly spot on.
I would have to say the Unicorn Fart candle. It took a couple of trial-and-errors, but I finally nailed it down. I think it really captures the essence of what a Unicorn farting pleasantly in your face would smell like. And this candle also contains glitter, which is my favorite color, so it's basically an all around awesome candle.
If I could have only one of your Christmas candles burning from this moment right now until December 25, which one should I pick?
That's hard one! I love our winter line, and it makes me sad that we can only have it for a short time in the year. We did create a new Christmas scent for this year called Elf Kisses, and it's one I can't stop burning in my house right now. It smells like elves kissing your nose (notes of oranges, cranberry, cinnamon, cloves and pinecones). It's basically Christmas in a jar, and it really warms up your house.
When's the next time we can see you and your good smelling candles in person?
I have a Small Business Saturday show on Nov 28th at the Community Beer Company. I'm also doing a Holiday Pop Up Show at West Elm Mockingbird on Dec. 12th that I am super excited about. It should be a lot of fun!