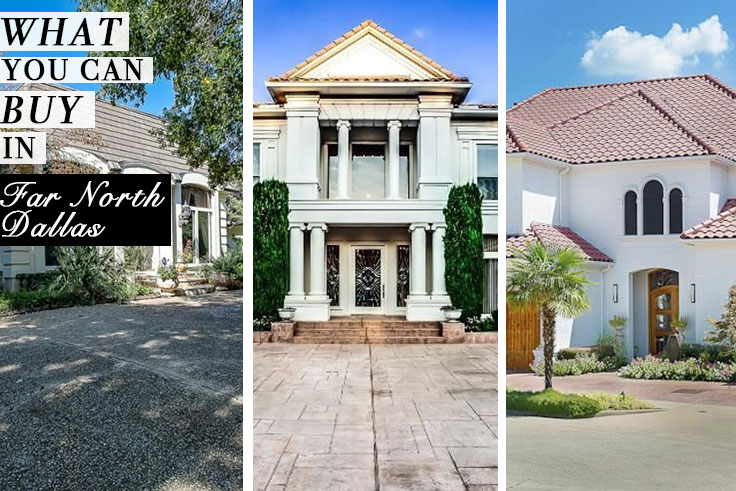 What $2 Million Buys You in Far North Dallas
Live big in the burbs.
You can live big in the burbs. Larger homes and yards have long been a draw for Dallas dwellers who head north. But while the lifestyle is suburban, the big city isn't out of reach. If you have $2 million laying around and a longing for wide open spaces, here's where you can settle in Far North Dallas.
My family and I used to nickname some of the more interesting homes in our neighborhood growing up. There was the home of the "Fence Family" (they really dug their privacy). We also had a pretty legitimate "Boo Radley" house, but this house would absolutely be dubbed the "Chandelier House." I know that's more of an interior observation, but I'm pretty sure you'd be able to count at least five chandeliers from the street once the sun went down. Either way, I dig the commitment to lavish lighting in this Williamsburg Estates home. The gorgeous, single-story abode also features one of the most Nancy Meyers-esque backyards I've ever seen in Dallas. Maybe, if you closed your eyes while sitting by the lovely backyard pool and wished hard enough, Meryl Streep would come out and offer you a scone.
By the Numbers
$1,799,00
6,356 Square Feet
5 Bedrooms
5.1 Bathrooms
3 Garage Spaces
1 Pool
Yes, you can live big in the burbs, but you can also live pretty lavishly. At 17708 Cedar Creek Canyon Drive, you can easily seat ten people on an extremely large, black leather sofa. You can have a black marble stairwell and two (yeah, two!) aquariums filled with exotic fish. You can enjoy an afternoon in the sauna, then walk out to your balcony overlooking an infinity hot tub and a pool with a Klimt-esque mural at the bottom.   You can also send your kids to Plano ISD. The DFW-world is truly your oyster!
By the Numbers
$1,595,000
8,123 Square Feet
6 Bedrooms
5.2 Bathrooms
3 Garage Spaces
1 Pool
I met a lot of cool southern California girls going to SMU (Southern California girls are almost always cool) and I spent the summer after my freshman year hitting up the various 'hoods where they lived. 18780 Wainsborough Lane looks like it could easily be found in Laguna or Newport. If you lived here, Stephen Colletti would totally pull up in his black Range Rover so you could drive around belting "Don't Stop Believing." But actually, you might not want to hit the road with Stephen. You might want him to stay and hang out in your cool house. You've got a room with six TVs gosh darnit! You guys could play pool, then get in the pool, or walk around some pretty awesome gardens holding hands. Basically, life would be totally rad in this Far North Dallas home.
By the Numbers
$1,529,000
6,578 Square Feet
5 Bedrooms
5.2 Bathrooms
3 Garage Spaces
1 Pool