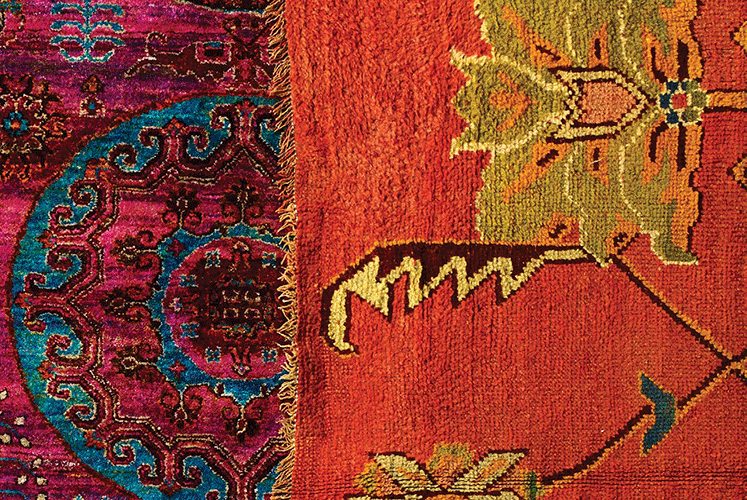 Abrash Decorative Rug Gallery Makes Rug Purchasing Easy
Floor it.
Ask Fara Kayone and her husband, Alireza, how they got started in the antique rug business, and they'll tell you that it nearly didn't happen. Despite having grown up in a family of rug merchants, Alireza went to the University of Oklahoma to study architecture. But after graduating in 1982, he decided to ditch the drafting desk and follow in the footsteps of his father and grandfather after all. "It is something I've been passionate about since I was very young," he says. "These rugs are made within a history and tradition of rug weaving. They are all unique and are a piece of art for your home."
Abrash Decorative Rug Gallery has both a to-the-trade Design Center store and a warehouse filled with rare and difficult-to-find rugs. There are four important factors that Alireza and Fara look for when buying a rug. "They must be handmade and have hand-spun wool, because machine-spun wool is inferior," Alireza says. "They must also be dyed with vegetable dye, and be 100 percent child-labor free."
Echoing her husband, Fara stands behind the caliber of their offerings. "If people care about the quality of the rug or where it was made and with what materials, we are the source for them," she says about Abrash's inventory, which is made up of both handmade antique rugs and recreations. The true antique rugs, which are purchased at notable estate sales and auctions, are incredibly rare. The recreations are modeled after traditional rugs but are made without the inferior dyes and mass-production techniques used to create most modern rugs. Clients look to Alireza and Fara for their experience in the industry and their knowledge about what rugs command.
"When it comes to purchasing one-of-a-kind rugs, there needs to be trust between seller and buyer," Alireza says. "Our knowledge and expertise is an important service we provide for our clients."
Design Book 2015