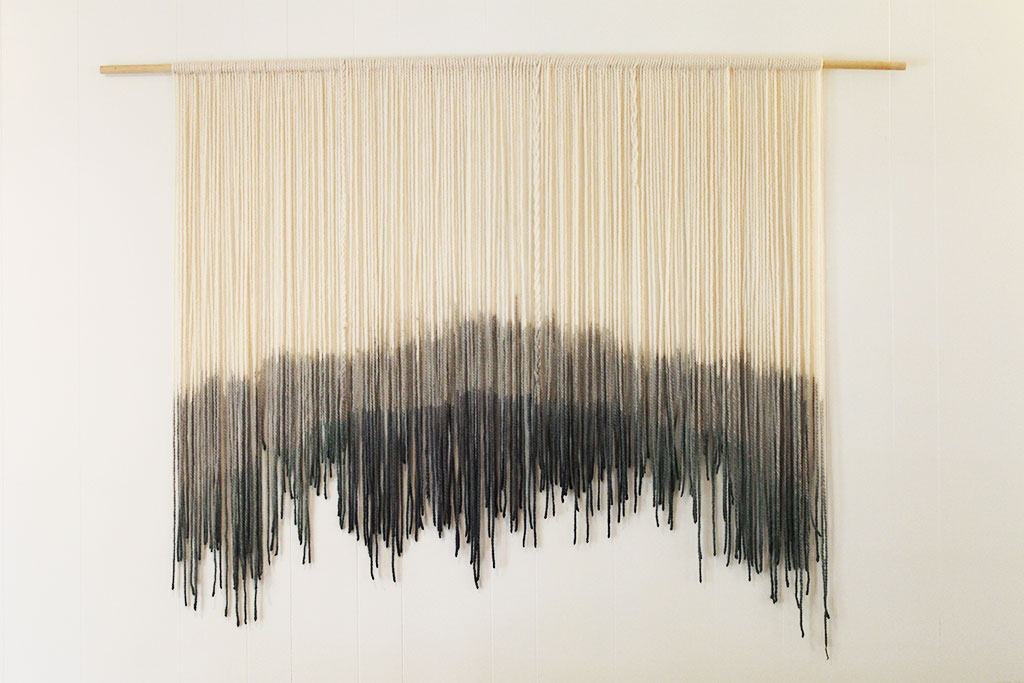 Lauren Williams of BOHO by LAUREN
We dig her dip-dyed beauties.
When Lauren Williams moved to Dallas from Los Angeles five years ago with her husband and baby in toe, she did what most young Dallasites do: she rented. As a result, those past five years have included several moves and many a new wall in need of a little decorating. "I love art," Williams says. "But what I love and what I want to hang on the wall doesn't always match my budget." She started buying canvases and hanging up her own artwork to fill the walls. "Once I got tired of a piece or moved to a new place, my family or friends would take over the paintings."
After moving to their latest home in April of 2013 and with another baby on the way, Williams wanted to create pieces that would hold a more permanent spot in their household and began looking for an alternative to traditional canvas art. "There was this large wall in our dining room that I just kept staring at. I knew I wanted to fill it with something giant," she says.
Then came the perfect inspiration. "I had been seeing a lot of these knotted, very cool macramé pieces that I loved," says Williams. "They just have that boho feel, but I wanted something larger than what I was seeing." She took a trip to Michaels, walked the aisles, and bought a ton of yarn. "I love the macramé pieces, but didn't feel I had the patience to learn the art of macramé knotting," she says. "Painting and using color, on the other hand, was something I could do. So I skipped the macramé detail and began using long pieces of yarn to create an alternative to a canvas. The result was an unexpected combination of textures, lengths and lines that I couldn't wait to add color to!"
She assembled her first tapestry last fall sitting in front of the TV after the kids were asleep. A gorgeous Dallas day brought her outside the morning after, where she experimented with dip-dying the yarn. The outcome was exactly what Williams was wanting: bohemian, one-of-a-kind and, of course, giant.
She shared the finished product on Instagram where it was met with an overwhelming response. After putting together custom tapestries for a few close friends, Williams decided to create her BOHO by LAUREN store on Etsy. Today, she's putting the finishing touches on her website, www.bohobylauren.com, and prepping her latest piece to be sent to its new home on Abbot Kinney in Venice Beach.
With the mid-century modern home revival very much in swing, Dallas needs more of those cool, Abbot Kinney-style designs to fill them. Williams' clean, natural, bohemian works are certainly influenced by her time living in Los Angeles, but she's a Texas girl at heart, so it's fitting that BOHO by LAUREN to be based close to her roots.
You can shop available tapestries on her new website, or email her at

[email protected]

 for custom orders.