This is part of a regular series in which I attempt (operative word) D.I.Y. projects and bring you, dear reader, the results. The good. The bad. And the hideous. I'll offer step-by-step instructions so that you can D.I.Y. along with me.
Based on the frequency with which the Sharpie mug DIY appears in my Pinterest feed, it seems as though people really feel the need to express themselves on their drinking instruments and there's a dearth of mugs on the market that can adequately get their sentiments across. A Sharpie mug, for the uninitiated, is a mug. That you draw on. With Sharpie. And then drink drinks from. End of DIY!
Well, it's almost that simple. (There's a step in between the drawing and the drinking that entails baking the marked-up mugs in the oven.) But I decided to take it upon myself to go a step farther. See, different crafters will tell you different things about how to achieve the longest-lasting design. A lot of different things. Like, there is seriously a shocking amount of web real estate dedicated to decorating mugs with markers. Some say to clean your mug with rubbing alcohol before decorating, others say to use Windex. Some say to apply an enamel top coat to your finished mug before baking, others say there's no need to bake at all. Some say to remove some of the existing glaze with etching cream or sandpaper, others tell you just to use the cheapest mugs you can find, because they have a thinner coat of glaze in the first place. Do you see what I'm saying about the intensity?
I decided to test out the two most common pieces of advice in this arena: 1. You should always hand wash your finished mugs, rather than machine washing them. And 2. Rather than using a standard Sharpie, you should use an oil-based paint pen. (Craft Smart, among other brands, makes a line of these that are clearly labeled as such on the packaging.)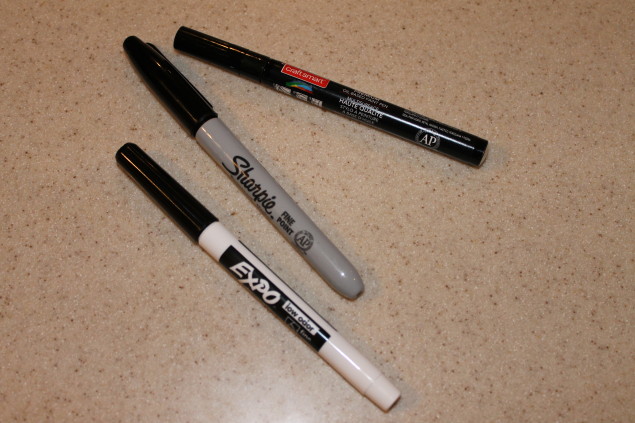 So in addition to my paint pen, which I purchased at Michael's, and my Sharpie, which I swiped from a place that rhymes with schmoffice schmupply schmoom, I purchased two Threshold-brand mugs at Target and a dry-erase pen, simply because I wanted to be able to sketch out my design in erasable ink then trace over it with the permanent markers. What I found, however, is that the dry-erase ink gunked up (industry term) my Sharpie a little bit, so I quickly abandoned this plan. If you must have a guide, try sketching on your mug with pencil or creating a stencil. Or simply accept the fact that something as hard-core as Sharpie mugs is not for you.

I started by drawing designs on each side of two mugs. The polka-dot and plaid designs on the left were done in Sharpie. The outline and herringbone designs, in paint pen. I immediately noticed that the paint pen made for much smoother work. Whereas going over an existing line in Sharpie sometimes leaves a mark or lifts some of the ink, I could double over my design in the paint pen with no issue. As for design, you could draw anything you like. A title. An inspirational message. A confession. Anything—except for a mustache cleverly placed to look like it's on your face when you take a sip. Please, people, let the mustache thing go. I beg you.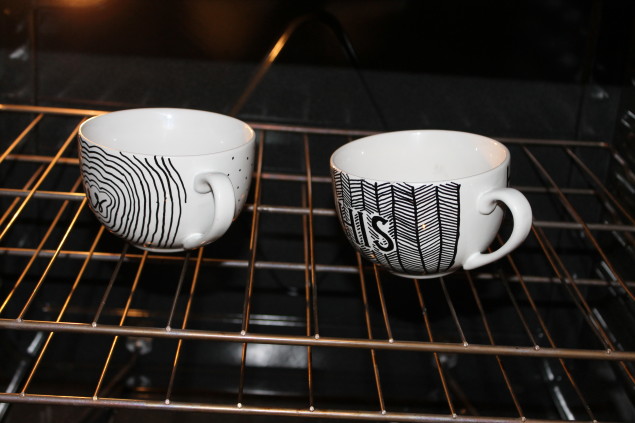 I placed the mugs in the oven, directly on the rack, and baked for 20 minutes at 350 degrees. Some of those previously mentioned crafters say to let the ink dry up to 24 hours before baking. I guess I followed those instructions, in the sense that 0 minutes is "up to" 24 hours. The Crafters also warn to let the mugs cool completely in the oven before removing them. Unfortunately, I did not heed their warning and inadvertently smeared some of the paint pen with my oven mitt (see photo below). So maybe it's best to listen to The Crafters. They are all-knowing. Do as I say, not as I do, people.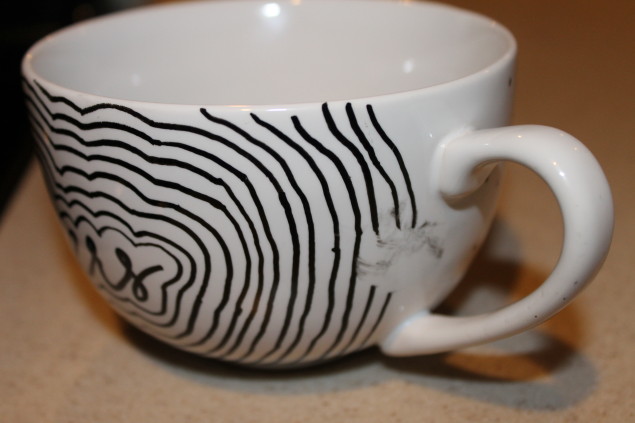 Once the mugs had cooled to the touch, I once again waited "up to 24 hours" and immediately stuck the "Hers" mug in the dishwasher to see how it would hold up. (We women are so self-sacrificing, aren't we?) I hand-washed the "His" mug, and was surprised to see the design done in Sharpie was already drastically faded. The paint-pen side, however, looked as vivid as ever.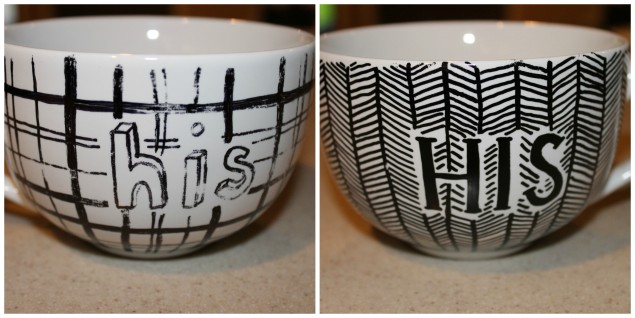 As for the mug that endured the machine wash, it held up surprisingly well. Both sides showed faint scratching here and there, but nothing remarkable.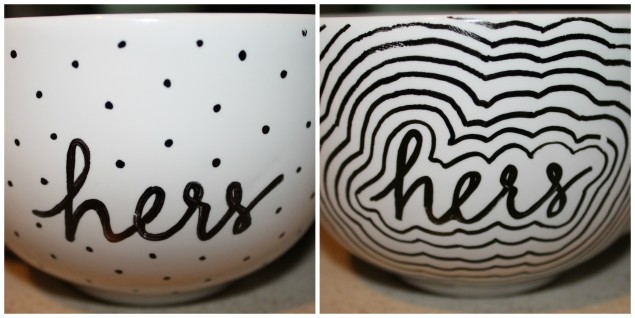 Still, the best results were seen on the design done in paint pen and washed by hand. That's right—you just created a craft that, in turn, will create more work for you.
Verdict: While drawing on the mugs was somewhat tricky, this is an easy craft that even the kiddos could get in on. With a little more patience than I exhibited and careful handling, you can make cute mugs with not a lot of effort or expense.
Get the AtHome Newsletter
Enjoy Dallas' best trends, hot properties, and tips from local designers to help you nest in style delivered weekly.