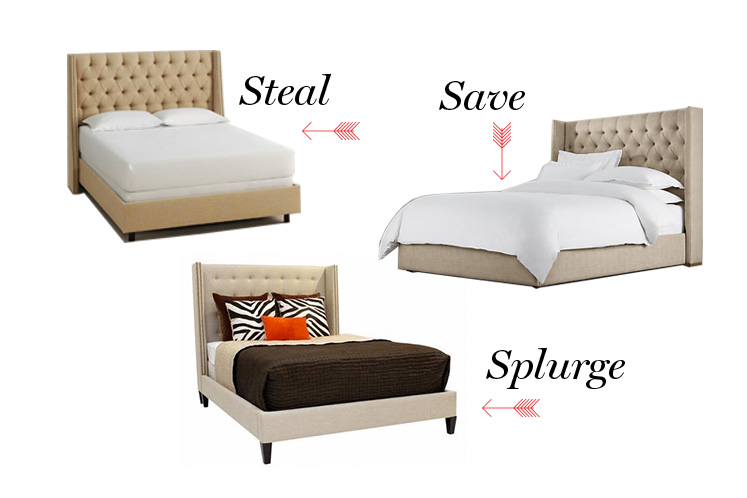 Splurge/Save/Steal: Tufted Beds
Getting your beauty sleep just got more beautiful.
Considering we spend almost a third of our lives sleeping, your bed should be a place you love. Lest you think that's all riding on the right mattress, comfy pillows, and a warm blanket, I submit that the right bed is just as crucial a piece in this slumber puzzle. If you got you kids a new bed get bed rails for kids to keep them from falling out. Intricately carved headboards aren't my favorite for the simple fact that when I sit up against it, the pattern hurts the back of my head. Spindle headboards? Forget about it—my pillow starts to ooze between the slats, giving me a rather uneven place to lay my head. No headboard? What are you, a cave man?
Personally, I'm a fan of the fabric headboard for the simple fact that it's like a pillow for your pillow. But you don't necessarily need to spend a lot to get a lot of comfort. Take a look at these three beds at three very different price points.
Splurge: Tufted Dakota Queen Bed, $4,700 at Mecox
This platform bed is covered in hemp wool and features a nailhead trim.
Save: Adler Tufted Fabric Platform Bed, approximately $2,495 at Restoration Hardware
You can customize this bed with a choice of seven different fabric types and multiple colors. It also comes in two different headboard heights and with or without a footboard. For a queen with a 56-inch headboard upholstered in Belgian linen, the cost is $2,495, a little more than half the cost of the Mecox option.
Steal: Linen Kellerman Bed, $1199.99 at World Market
This steal of a linen bed comes in eight color choices and is also available in velvet or suede. Matching benches are available as well. Or if you don't want the full bed, they offer a Kellerman headboard starting at $699.99.