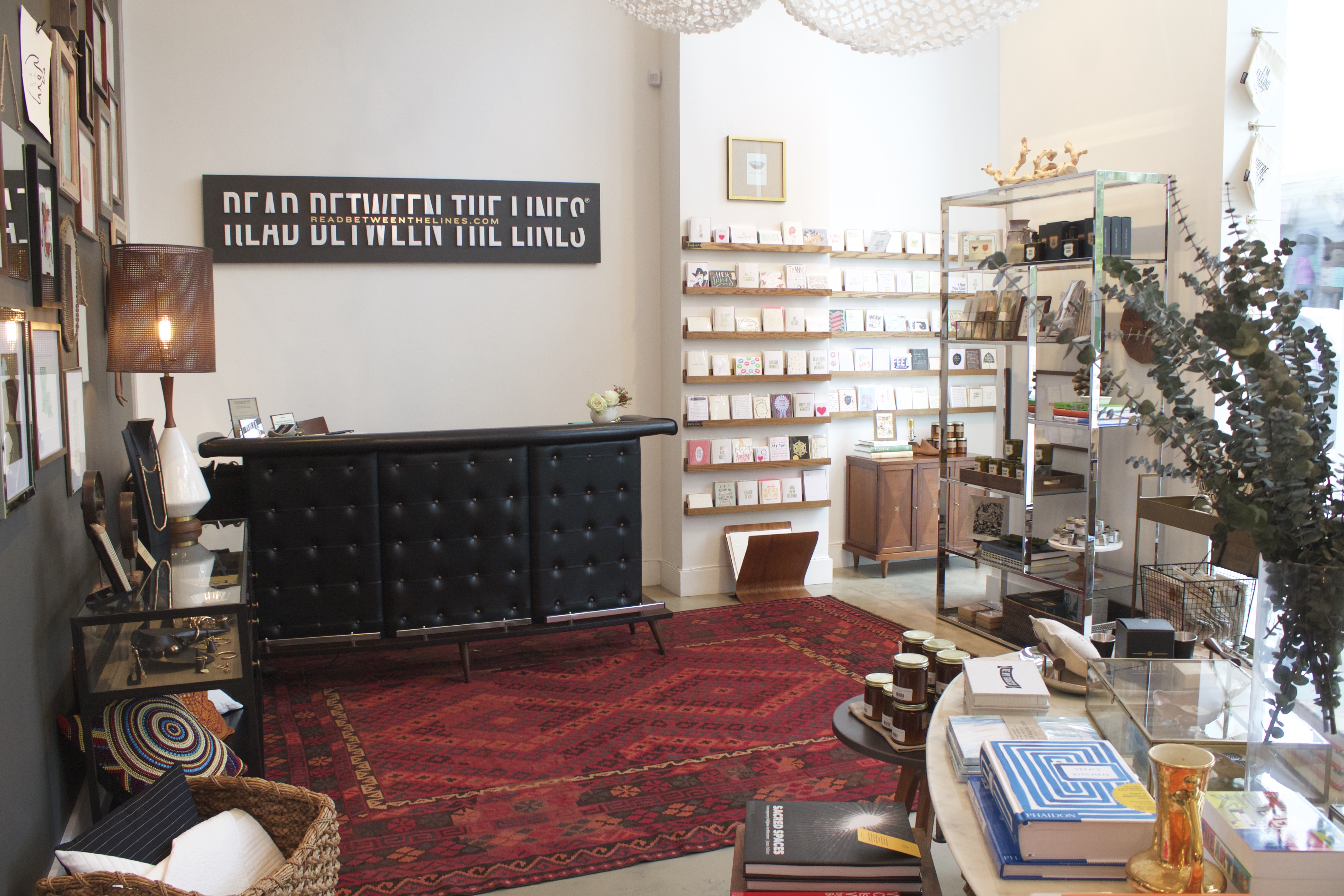 Get the Vibe: Read Between the Lines' Flagship Store
Insight from the talented wordsmith.
We're big fans of Melinda Jones here at D Home. Her joyful expressions are the driving energy behind her company Read Between the Lines, a local source for bold prints, thoughtful cards, and hilarious wine and spirit bags. After managing the online company out of her living room for the past two years, Jones decided it was time to open shop, literally, with RBTL's very first brick and mortar store in Victory Park.
I caught up with the talented wordsmith to talk about the inspiration behind the space as well as her most popular expressions.
What made you decide to open a brick and mortar store?
The store is something I've wanted to do for about 20 years. I've always loved paper and gifts long before I had my own line or even a blog. Whenever I travel I visit card and gift stores first. Well, it's food and then card and gift stores! The stores I love have inspired me with my own store. Chandra Greer, who owns a store in Chicago, once said that if it feels like a home versus a store, than that's a place I want to hang out. That was my goal here.
Tell me more about the space's design.
We collaborated with SWOON here in Dallas in designing this space, and it was so much fun. For example, I found a mint condition sofa from the 1880s, and Swoon had the idea to cover it in this Indigo cowhide and it's very quickly become the mascot of the store. They totally got our aesthetic.
We just sort of worked with what we had and had fun with it. The space was previously an art studio and had very high ceilings, which we loved, but to make it feel cozier Swoon suggested hanging the white camouflage mesh to bring the ceilings down a bit. The register area is a bar from the 1950s that I found at from White Elephant Antiques in Dallas.
What else inspired you with the space?
I grew up with an older brother and he was a huge influence on me, so I always wanted to carry things in store that he would love to buy. Guys need a cool place to shop and quickly find special things too.
What designers or products can you find in the new shop?
You'll find our entire Read Between the Lines line here, our new gender-neutral wine and spirits bags we've launched for spring, and about twenty other lines from makers that we believe in and are crazy about. Everything is at a really reasonable price point. I tried to be really cognizant of the fact that sometimes you come into a store and you just want a quick little gift to take somewhere, and then other times you really have more time to thoughtfully shopping for a bigger present, so we try to maintain a high to low range of price points.
A Few Highlights
Totes from Tribe Alive in Fort Worth
Read Between the Line's Most Popular Expressions
Stay tuned to our blog this week for Jones' tips on creating a gallery wall that's uniquely you.