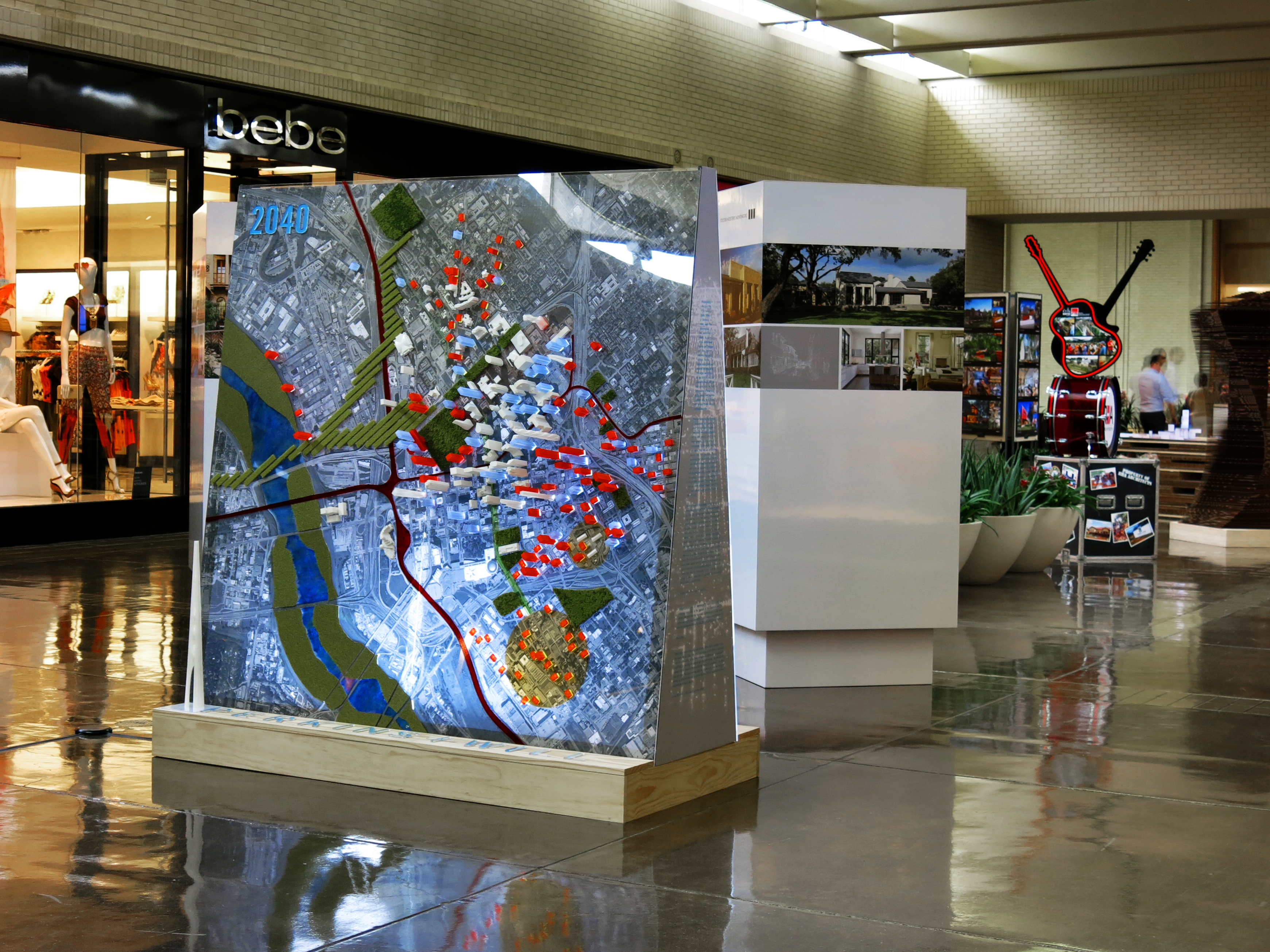 Architecture 360: Perkins+Will's RETROSPECT Exhibit
Behind the scenes of NorthPark's latest exhibit.
Each year, AIA Dallas teams up with local architects and firms to create RETROSPECT, an 18-day exhibition held at NorthPark. Now, in its 25th year, the annual event returns through April 26 featuring three-dimensional installations expressing "Architecture Matters: Past, Present, and Future."
Every Wednesday and Friday, I'll be introducing a wonderful Dallas architectural firm to tell us more about their RETROSPECT exhibit. On this beautiful Wednesday afternoon, the team from Perkins+Will are here to talk about why architecture matters.
Who Cares about Architecture?
That's meant as a real question, not a rhetorical one.
Do doctors and patients in a hospital care about the quality of the space where healing happens?
Do students and teachers care about the school in which they spend their days?
Do people care about the spaces that make up their homes?
It is clear that everyone is affected by architecture, and yet it gets less media coverage than Kim Kardashian's bikinis.
Perhaps it's because architecture is so ubiquitous in our lives that so few people seem to vocalize the importance of it. You don't talk much about air, you just breathe it.
NorthPark Center cares about architecture. Not only are they committed to good design in their facilities, they also host the RETROSPECT exhibition. That generosity gives the architectural design community a platform to provide a message to the public.
So every spring when it's time to prepare for RETROSPECT, architecture firms find themselves asking "What is our message?"
This year, Perkins+Will's RETROSPECT planning revolved around the idea of providing a spark to ignite conversations about architecture. The message would be:
"NorthPark patrons: you are affected by architecture. You should talk about it!"
In showing two views of the buildings in the city center (one as they are today, and one as
they could be in 25 years,) it was our hope that mall visitors would be inspired to talk with each other about what they would like to see happen in our city in the next 25 years.
On Saturday afternoon, one of our team members took their family to see the exhibition. It was very gratifying to hear that mall patrons were doing exactly what we had hoped. They were pointing at locations on the map and saying things like:
"Wouldn't it be great if that was a park?"
"There should be more buildings on the other side of the river."
To return to the air metaphor: the one time we do talk about air is when it becomes polluted.
Let's not wait until architecture is failing for us to talk about it.