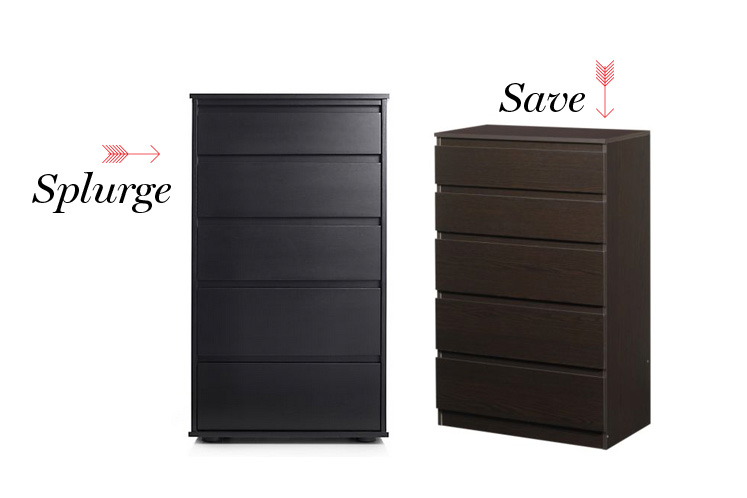 Splurge/Save: Clean-Lined Dressers
Hashtag: Ikea does it again.
I've been on the hunt for the perfect dresser-cum-nightstand for a few months now. Perhaps you'll even be seeing one in a future DIY Wednesday post (that's what we in the business call a TEASE). Thanks to the hours I've spent searching the Internet at work research I've been doing of late, I've noticed some repetition in styles at a variety of price points. Granted, it's hard to completely reinvent the wheel when it comes to a rectangular frame housing drawers. But some are so similar that it seems silly to spend the extra hundreds of bucks that the higher-end stores command. Take these two five-drawer dressers, for instance.
Splurge:
Odin 5-Drawer Chest, $799 at Crate & Barrel
Providing ample storage and a clean, stream-lined look, this dresser would be a handsome addition to any bedroom.
Save:
I know what you're thinking. But this one's not made of real wood! Seriously, who can tell? Also: You're welcome, trees. But the quality! No, this probably isn't a piece you're going to pass down for generations, but seeing as how it likely costs less than most of the shirts you own, it more than serves its purpose. Besides, your future grandkids will be able to 3D print their own dressers in seconds. But I've got to put it together myself! Yes, but you'll have a sense of accomplishment when you're done! (Or if you're not the type who gets satisfaction out of creating things with your bare hands—or in this case, assembling pre-cut pieces using provided materials and an illustrated set of instructions—you can hire someone to do it for you for a nominal fee.)