This is part of a regular series in which I attempt (operative word) D.I.Y. projects and bring you, dear reader, the results. The good. The bad. And the hideous. I'll offer step-by-step instructions so that you can D.I.Y. along with me.
Saint Patrick's Day is less than a week away, and you know what that means…
Actually, I'm not really sure what that means. This isn't really a holiday you have to prepare for, as it doesn't really involve anything but wearing green and heavy drinking. It's not like you need to prepare a big meal or get your loved ones St. Patrick's Day presents, right? If you do, my family's been doing things very wrong.
Still, maybe you want to celebrate the day with a special treat. Something festive that your friends can enjoy, or at least, ingest in an effort to soak up some of the booze from their stomachs. In that case, I've got just the thing for you. Say it with me: traditional St. Patrick's Day Homemade Shamrock Marshmallows!
OK, so this is not really a thing. It's sort of a thing I invented after seeing recipes for homemade marshmallows, having never really pondered how marshmallows came into existence and suddenly finding myself very curious. But if you enjoy marshmallows, why wouldn't you want some in the shape of shamrocks? And seriously, there are a lot worse ideas out there on how to mark this holiday. Let's all agree that this isn't so bad by comparison.
Anyway, there are lots of different recipes out there for homemade marshmallows. I chose this one from Epicurious, only I left out the Creme de Menthe and the peppermint oil (out of sheer laziness), and I didn't dip them in chocolate when they were done (again, laziness), and I cut them into shamrock shapes rather than rectangles because St. Patrick's Day (creative ambition). So really they barely resemble this recipe.
Here's what you'll need: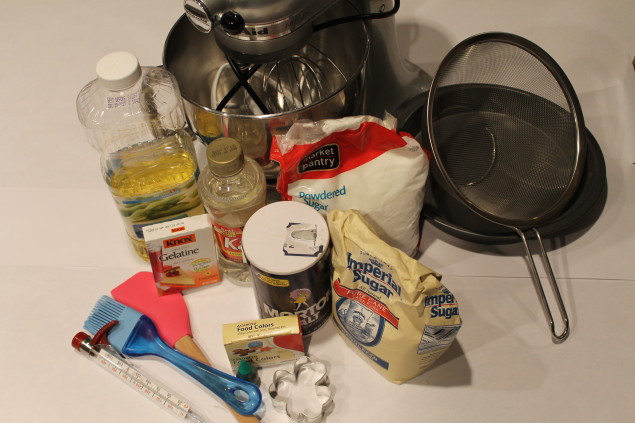 Confectioners' sugar (commoners, including Target's Market Pantry brand, know it as powdered sugar)
Vegetable oil
3 (1/4-ounce) envelopes powdered unflavored gelatin
1 1/2 cups granulated sugar
1 cup light corn syrup
1/4 teaspoon salt
Green food coloring (The original recipe calls for "preferably organic" food coloring, which, c'mon, give me a break. I'm making fluffy candy out of sugar and corn starch. I'm not sure food coloring is really the part to take a stand against here.)
A stand mixer with a whisk attachment (While a hand mixer might work, having a hands-free stand mixer is pretty helpful in this endeavor. If you are, like me, and like Britney Spears, not a girl and not yet a woman with her own stand mixer, see if you can bum one from a baker in your life.)
A candy thermometer
A spatula
A pastry brush
A cookie cutter — I found a shamrock-shaped one for $1.95 at Sur La Table. You could also use a knife or a pizza cutter if you don't want a decorative shape because you are no fun.
A pan approximately 9 inches in diameter
A fine-mesh sieve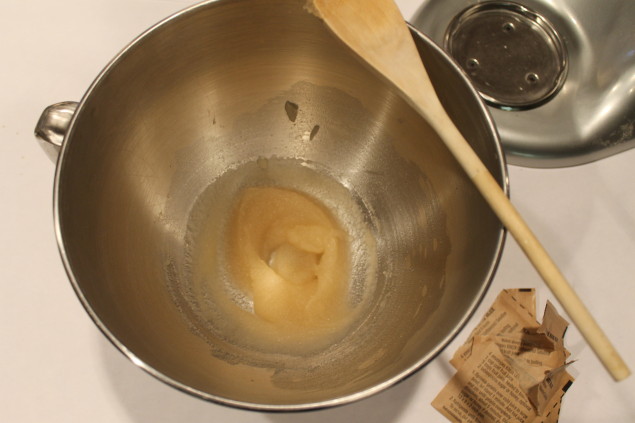 Combine 1/2 cup of water and three packets of gelatin in the bowl of your your mom's mixer. Stir with a spoon until it appears you've made what looks to be apple sauce. (With the remaining packet of gelatin, make a hair mask, apply it, and thank me later. This has nothing to do with the marshmallows, but it will make your hair really soft. Although that will probably attract some more friends with whom to share your marshmallows, so it does sort of apply.)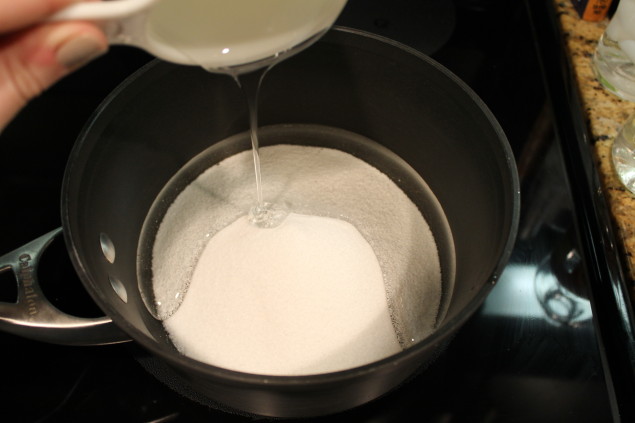 Combine the granulated sugar, corn syrup, salt, and 1/2 cup water in a medium sauce pan. Oh yes, I forgot to mention in the list of things you'll need that you'll also need a sauce pan. But if you don't have one of these, maybe making your own marshmallows is a bit of an ambitious first step for you. Maybe concentrate first on, I don't know, chicken. Or Ramen Noodles.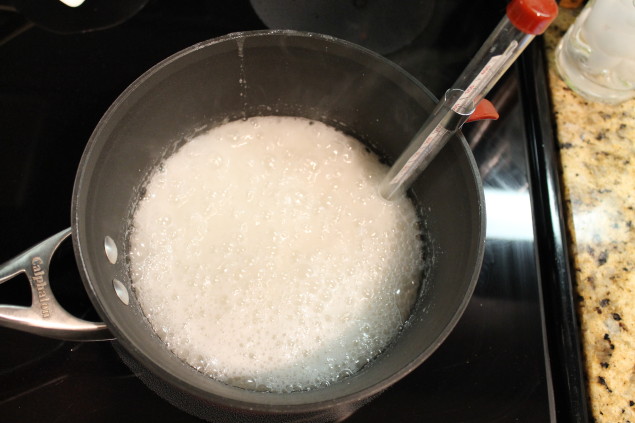 Heat the sauce pan to high, stirring until the sugar dissolves. Have a glass of water nearby because hydration is important and if you are making your own marshmallows you are clearly into clean living and physical fitness. When the sugar mixture starts to bubble, insert a candy thermometer and allow to boil for a few minutes until it reaches 240 degrees, or "Soft Ball" stage. No, I have no idea what that means, either.
While it's boiling, prepare your pan. Brush vegetable oil on the bottom and sides, then coat with powdered sugar. The recipe says to use a fine-mesh sieve to do this, but I didn't have one of those. Instead I had a wire colander, which, I'll be honest, didn't so much as "sieve" as "let all of the powdered sugar straight through." You know what else works? Pouring a little bit of powdered sugar in the pan, then turning the pan, hitting the rim with your hand so that the sugar coats the entire surface, then dumping the excess. While you might be tempted to use Pam spray instead of vegetable oil, unless you like yellow-y residue on your marshmallows, I wouldn't. But maybe you're into that, so who am I to tell you what to do? It's a free country.
Meanwhile…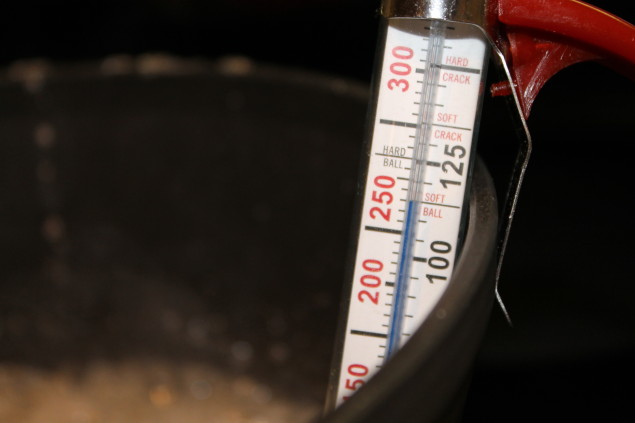 SOFT BALL STAGE ACHIEVED!!!! Sorry, Hard Crack stage. Maybe next time.
Remove the pan from the heat and allow to sit for a minute so the bubbling stops. Turn your mom's mixer on slow speed, then add the sugar syrup, pouring it in in a slow stream along the side of the bowl. Attempt to do this all with one hand so that you can take pictures with your other hand, trying  not to spill the boiling syrup mix on either yourself or your camera, because when your work said you could "expense a few things" for your DIY blog posts, you're pretty sure they didn't mean skin grafts or a new Canon DSLR.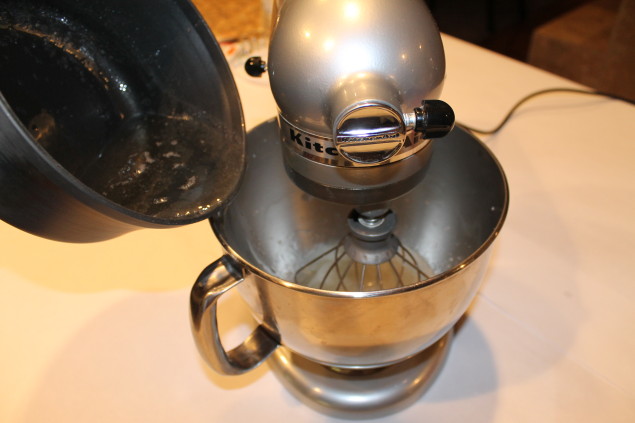 Mix for about five minutes, gradually increasing the speed of your mom's mixer from low to high. When the concoction stiffens and creates a solid goopy ribbon upon lifting the whisk out of the bowl, it's marshmallow time. Add food coloring and mix in until you've achieved your desired hue.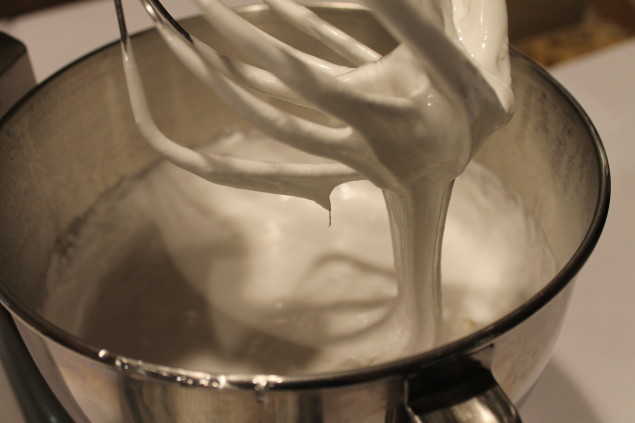 Pour the mixture into the prepared pan. Don't take a picture of this step because it requires both hands and you have no one there to share your life's joys and sorrows with help you.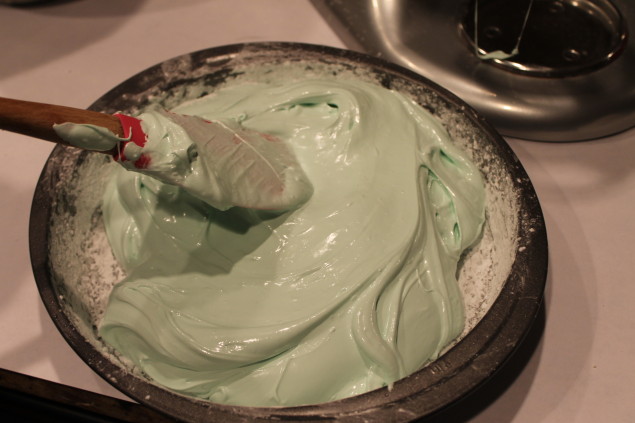 Spread evenly in the pan. Now this mess is STICKY. But you know the expression like oil and water? Apparently it should really be like marshmallows and water because these two things do not want to have anything to do with each other. That is an overly complicated way of saying that you can simply run your spatula under water to assist in smoothing the mixture, as it will magically not stick to the marshmallowy goodness.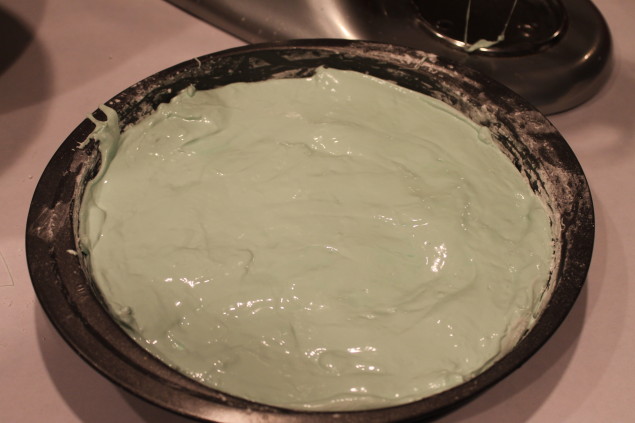 I know. Not great.
Allow the mixture to sit for at least four hours uncovered. You do not have to be present for this part of the process. In fact, I would encourage you to go find something else to do. What you should do with these four hours is not part of the instructions because do I have to tell you everything? Sheesh, get a hobby.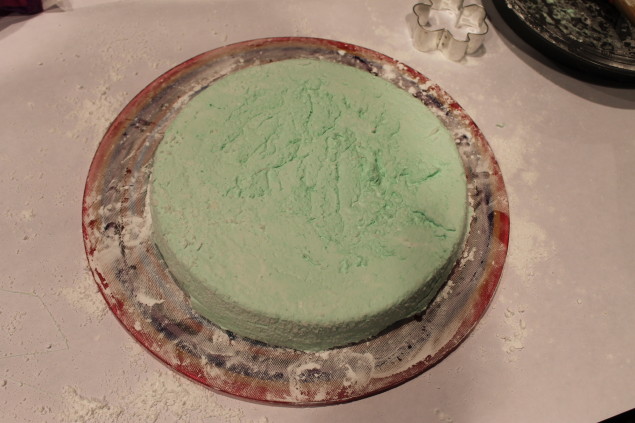 Once the four hours is up, dust a cutting board or plate with powdered sugar. Loosen the sides of the congealed marshmallow pie thing with a spatula, then transfer it to the plate. Coat your cookie cutter (or knife, or pizza cutter) with oil and then coat with powdered sugar and hack away.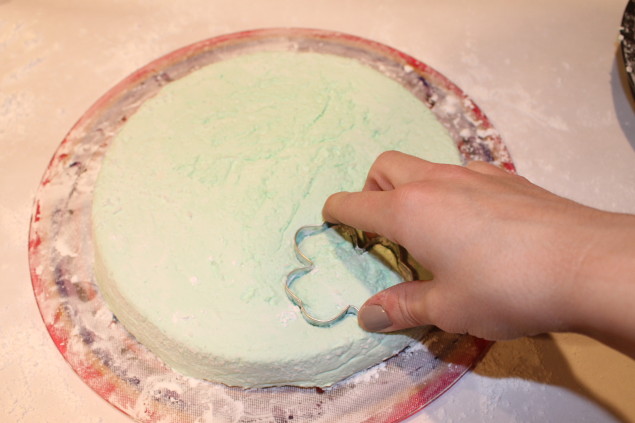 When you're done, you will have pillowy treats that your half-in-the-bag friends will probably think are plus signs or the state of Texas. Them's the breaks when you're serving food to drunk people. They don't care about your soft balling efforts or your spatula tricks. They only want to know if what you're giving them has booze in it. So maybe choose a recipient who will appreciate it more. Do kids have to bring their teachers St. Patrick's Day presents? Why does it seem like these days kids have to bring their teachers something for every random holiday? Except you know what your kids' teachers could probably use more than a Frozen valentine or a marshmallow shamrock? Money. So maybe give them some of these in a bag with a $20 bill tied around it.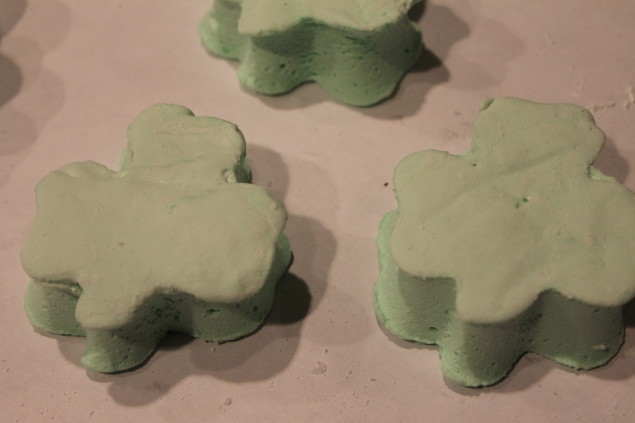 Verdict: Honestly, this was really simple to do if you have the right equipment, and the results were pretty tasty. Success.
Get the SideDish Newsletter
Dallas' hottest dining news, recipes, and reviews served up fresh to your inbox each week.