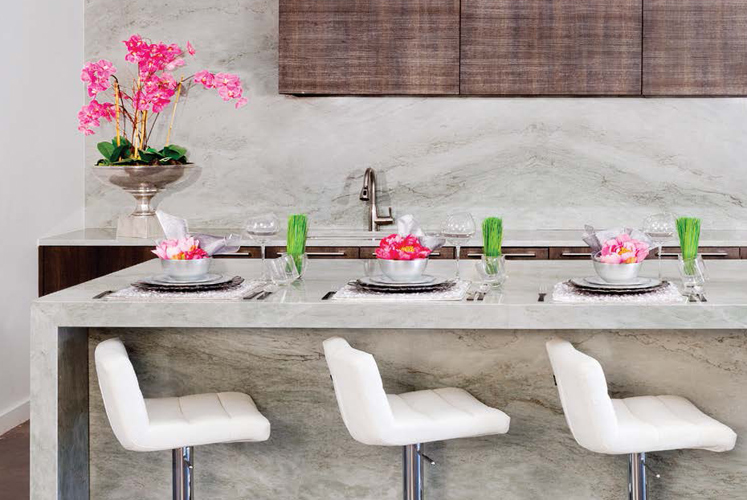 Natural Beauty
Aria Stone Gallery is in its element.
Vinny Tavares is on a crusade to change the way Americans regard natural stone. Inspired by a Slow Art exhibition in Stockholm that encouraged viewers to study each work and interpret it on a personal level, Tavares now gives his customers a similar opportunity to appreciate marble, granite, and other natural materials through Aria Stone Gallery, the showroom he founded in the Design District in 2013.
Tavares travels the world climbing through football-field-sized quarries to find the highest grade of marble, quartzite, onyx, granite, and soapstone to present to his clients. Tavares was so inspired by the exhibition that he was moved to display the stone slabs as a museum presents its artwork. He uses the finest installation materials in a temperature-controlled showroom (and warehouse), carefully lighting each piece so that it can be fully appreciated. Tavares encourages his customers to learn about a stone's origin, mineral content, and color variations to determine its best application, whether it's as a unique fireplace surround, flooring, or a kitchen countertop. Not surprisingly, Aria stone is often simply used as art.
Customers who visit Aria Stone Gallery will be impressed by the intricacies of each slab. They might also be surprised at how reasonably priced these premium stones can be. But the best part of the trip will undoubtedly be visiting with Tavares, who is passionate about sharing his enthusiasm for this beautiful material with the world.
Design Book 2015