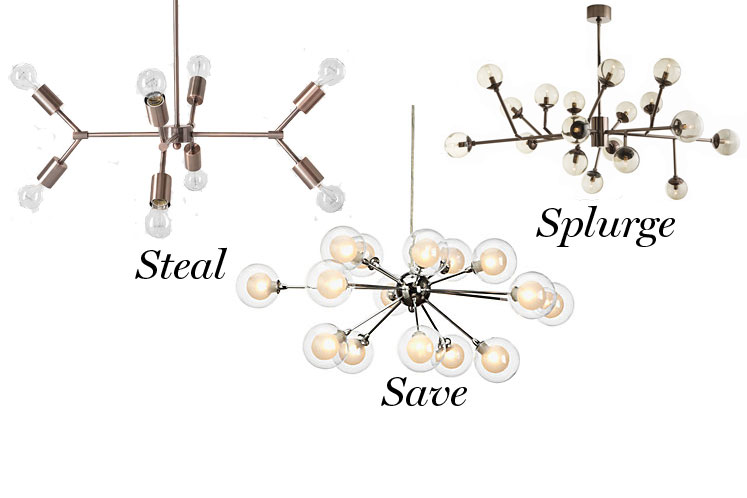 Splurge/Save/Steal: Multi-Bulb Fixtures
Light up your life with these stylish chandeliers.
One of the fastest ways to make a room look more modern is to update the light fixture. Replacing a sad old ceiling fan or a tired wrought-iron chandelier with a bold, eye-catching pendant adds instant style and lights up a room (literally and figuratively). If you, like us, love the sleek look of multi-armed, bare-bulbed fixtures, here are three options at varying price points you can bring home now.
Splurge: Dallas Chandelier, $4,200 at Arteriors
Arteriors never disappoints with their lighting selection, and this Sputnik-inspired pendant is no exception. But the price tag has our pennies rattling in our change purse.
Save: Maddox Chandelier, $549 at Z Gallerie
This nickel-plated version at Z Gallerie captures the same mid-century vibe for a fraction of the price.
Steal: Locust Copper Pipe Pendant, $179 at Urban Outfitters
So what if Urban Outfitters lists their home accessories under the heading of "Apartment"? This industrial beauty clocks in at a mere $179! If you've seen my favorite commercial of the last few months, imagine me saying that price in the same excited tone as Charlie bragging about his like count. That's how great of a deal this is. "A HUNDRED AND SEVENTY NINE DOLLARS!"