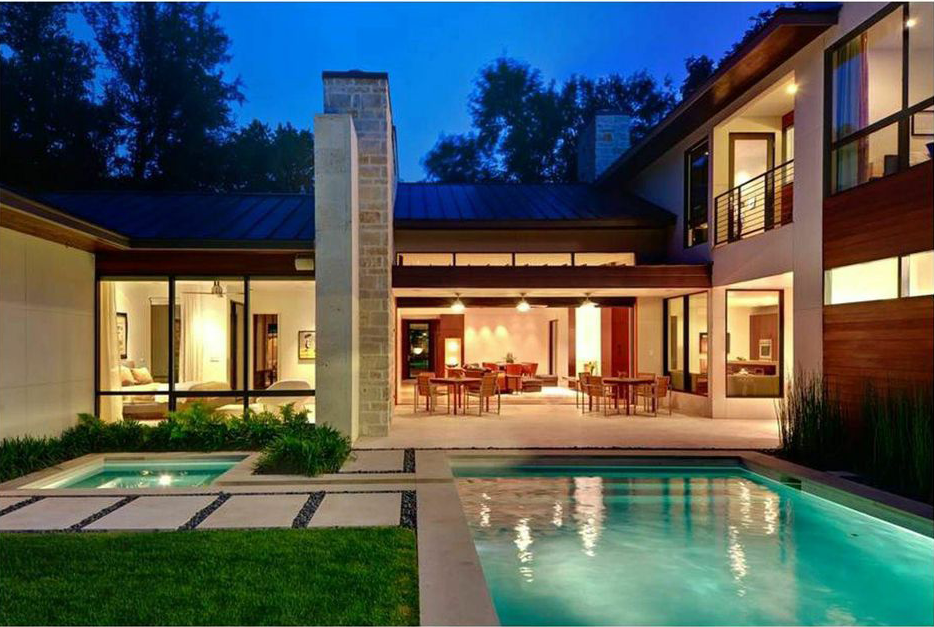 AIA Tour of Homes: Valley Ridge Road is an Eco-Friendly Dream
This amazing home has 11 geothermal wells, solar panels, two vegetative roofs, and so much more.
The American Institute of Architects home tour is coming up the first weekend of November. We've been patiently waiting all summer to find out what homes are on the docket, and AIA has been kind enough to let us reveal them to you right here on D Home. So stop by every morning until 9/29 to find out what houses are on the tour and why they were selected. Today, we're revealing the Valley Ridge Road home, which was designed by Marcia Zimmermann and Todd Hamilton, AIA. To purchase tickets or find out more information about the AIA tour, click here. 
"In a neighborhood surrounded by historic, natural landscape, this residence on Valley Ridge Road was designed to preserve the mature trees on the site. Its footprint reflects this strategy, creating a series of courtyards or outdoor rooms that are paired with indoor living spaces.
A multitude of energy-saving features were incorporated, including 11 geothermal wells, photovoltaic/solar panels on the upper roof, and two vegetative roofs above the street-facing facade. A major stone demising wall separates the parents' suite from the more open family spaces. Three children's bedrooms and a playroom/den occupy the second floor. A 20-foot-wide sliding pocket door allows the pool area to blend with the living and dining rooms.
Exterior materials are rough stone, fossil cut stone, stucco, and cypress siding. Many of the masonry materials are similar in color and tone, contrasting with the darker wood. Pitched roofs are standing seam metal, the low slope roof with photovoltaic/solar panels is reflective, and the remaining roofs are planted. Interior materials include a broad palette of marble and granite, rich in color and visual texture."
— Todd Hamilton, AIA
Why it was selected to be part of the tour: 
"The first home on our tour was designed by Todd Hamilton, AIA and features geothermal wells, PVC panels, and two green roofs. It combines natural materials with a modern design to prove that green design comes in beautiful packages." – Jennifer Workman, AIA, Good Fulton & Farrell Architects, 2014 AIA Dallas Tour of Homes Co-Chair