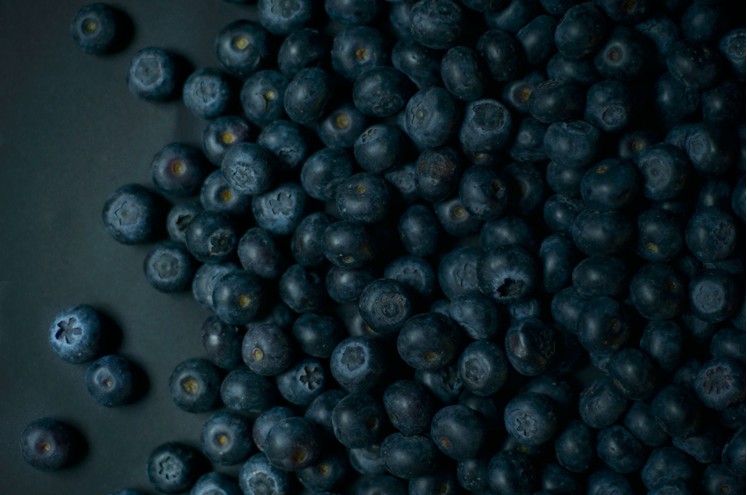 Put Your Blueberries to Good (Tasty) Use
Alternate headline: How to make a good thing better.
In our May/June issue, our dearly departed assistant food editor Carol Shih told you one of the best places in the area to pick blueberries. For the purposes of this blog post, I'm going to assume that, upon reading her article, you dropped everything you were doing and headed straight for Twin Oaks and now your fridge is bursting at the seams with blueberries. (You're such a good, instruction-following reader.)
Of course, there's nothing wrong with just popping these delectable little pods right into your mouth, but if you're looking for another way to get your daily dose of blueberries, try this blueberry galette recipe from Rush Patisserie owner Samantha Rush. It's a delicious summertime treat that you should make and then invite us over to have some. (Hey, you're so good at following instructions, it was worth a shot.)
Blueberry Galette with Cream Cheese Pastry
For the Pastry
2 1/2 cups all purpose flour
1/2 teaspoon salt
1 cup (2 sticks) unsalted butter, cut into pieces, room temperature
1 8-ounce package cream cheese, cut into pieces, room temperature
For the Fruit Filling
2 to 2 1/2 cups fresh blueberries, rinsed and dried
1/4 cup granulated sugar
1/4 cup brown sugar
2 Tablespoons cornstarch
1 teaspoon freshly squeezed lemon juice
1 tablespoon brandy
1/2-teaspoon vanilla
Pinch of ground cinnamon
Pinch of kosher salt
1 egg
1 Tablespoon milk
1 Tablespoon coarse sugar (or granulated sugar) for garnish
Preheat oven 375º F.
Preparation of Cream Cheese Pastry:
Mix flour and salt in food processor. Add butter and cheese; blend until moist clumps form. Shape dough into a ball. Wrap and chill approximately 1 hour.
Preparation of Blueberry Filling:
Gently toss the blueberries, brandy, lemon juice, and vanilla together in a bowl. Sprinkle the sugar, brown sugar, cornstarch, cinnamon, and salt over the fruit and gently toss to combine.
Remove the dough from the refrigerator. (If needed, let rest at room temperature for 15 minutes to become malleable.) Lightly dust a large sheet of parchment paper with flour. Roll dough into a 12-inch round circle about 1/4-inch thick. Transfer parchment and dough onto a baking sheet and refrigerate until cool and slightly firm (approximately 15 minutes).
Remove the dough on the baking sheet from the refrigerator and mound the fruit filling in the center of the dough, leaving a 2 1/2-inch border around the edge. Fold in edge of dough to cover outer rim of berries, pleating the dough as you work around the circle.
Mix the egg and milk. Using a pastry brush, brush the dough with the egg mixture and sprinkle with the tablespoon of coarse sugar. Bake for 40-45 minutes, until the fruit juices are bubbling and the crust is a deep golden brown. Transfer the baking sheet to a rack and cool for 30 minutes. Serve warm or at room temperature.
For added deliciousness, garnish with a dollop of fresh lemon curd or lightly sweetened crème fraiche.