The past two months have been busy for Mili Suleman. She got married (congrats!), moved houses, and opened the first studio for her handmade textile company Kufri Life. A little over a year old, Kufri Life is the a collaboration between Mili and her mother, Maya, who lives in Oman. "Kufri Life started as an attempt to connect with my mother, my heritage, and to utilize my graphic design skills in a fresh way," Mili says.
The duo finds inspiration from Indian and global cultures, Mili's childhood living in Oman, and exotic colors and prints. Development of a fabric, from design to fruition, takes about 5 months total, and all of the weaving, dying, and printing is done in Eastern and Southern India. The name of the company is inspired by a hill station in India, where people travel for vacation. "The name was also appealing because it sounds a lot like 'carefree life,' Mili says. "I feel like I am living my authentic life through creating Kufri Life, so that's why our tagline is 'live authentically.'"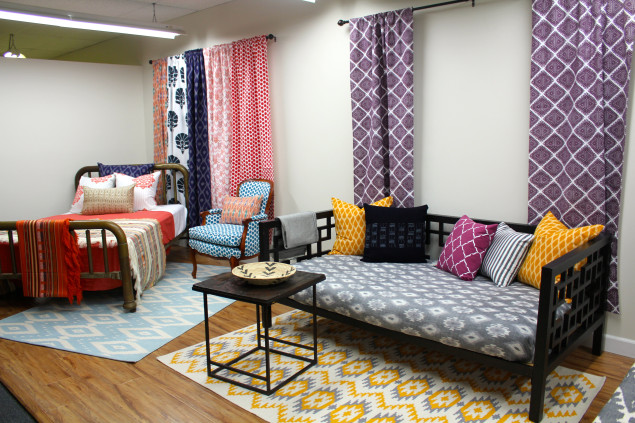 Their most popular prints are in the traditional Indian style of "ikat" (pronounced "ee-kat"). "This can be a very traditional print, but I give my own take on it by selecting things like the color and the scale of the pattern," Mili says. "The textiles are created when the artisans draw the pattern on the yarn, then tie it with rubber tubes, and dip the fabric in the die. When the fabric comes out and the tubes are removed, there is a sort of jagged pattern, it's similar to tie-dye." (To see a demonstration video, click here.)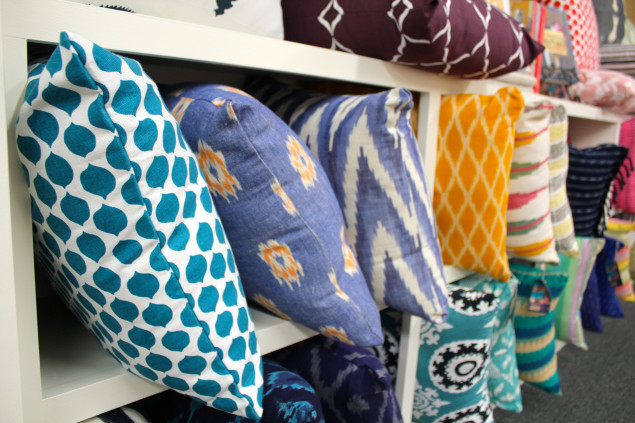 Once the fabrics have made it to Texas, they can be transformed into everything from upholstery, wall coverings, duvet covers, or pillows. Also being imported from India: hand woven rugs in bright colors and patterns. The shop is open both to the trade and for retail, by appointment only.
"These designs are for somebody who wants to bring character into their home," Mili says. "These are prints you will see on the pages of magazines, but we are offering them at a price that's more affordable. They'll bring something bright and a little different into your home."
Get the AtHome Newsletter
Enjoy Dallas' best trends, hot properties, and tips from local designers to help you nest in style delivered weekly.