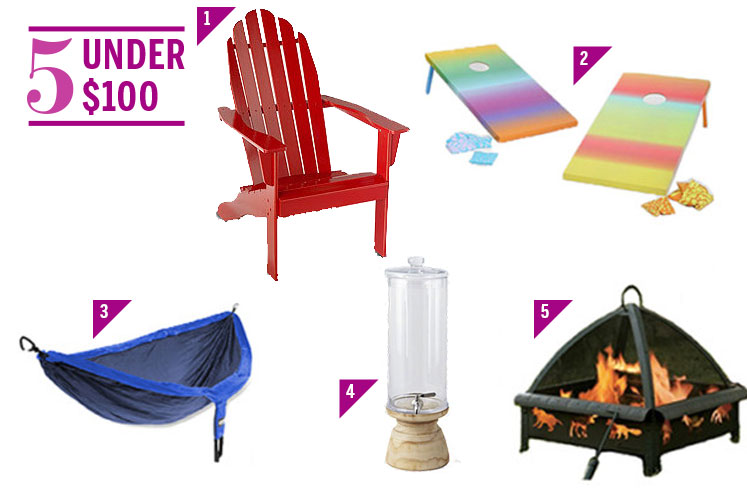 5 Backyard Necessities for the 4th of July
Spruce up your backyard for Independence Day!
Celebrating the 4th of July is arguably one of the best moments of the summer. From fireworks, to popsicles, sparklers, grilling out, and having people over, it's a great day to spend outdoors. Get your backyard ready for the American festivities with these five items for Independence Day!
1. Americana Chair- $100
Lacking some red, white, and blue for the holiday? Stop by World Market for these chairs! Available in red, white, and other various colors, these eucalyptus wood chairs are perfect for the 4th. World Market also has a special Americana seasonal line, so make sure to check it out while buying the chairs online or in stores.
2. Corn Hole- $100
Add the tailgate favorite to your yard for a little festive inspiration. A fun, stress free game for any age, that is perfect for the 4th. Play rounds in-between pool sessions and eating. Pick the set up at an Urban Outfitters store in Mockingbird Station and NorthPark Center or order online.
3. Hammock- $70
Lay out under the stars and enjoy fireworks in a cozy hammock. ENOs are easy to set up, fit up to two, and can be tucked away in a small bag when you aren't using it. They come in several different colors, but blue fits in with the day's theme. Pick one up at REI or online.
4. Drink Dispenser- $40
Avoid making runs back and forth in-between the kitchen with setting up a drink dispenser! Whether you fill it up with lemonade or a summery cocktail, this is a must have when you are grilling out. West Elm has this style in stores and online.
5. Fire Pit-$100
Nothing tops off a night like a bonfire and some s'mores. Gather around with family and friends to wind down the night with a warm fire. A small fire pit contains the mess and who doesn't love a classic campfire smell? Available online and in-store pickup at Cabela's.