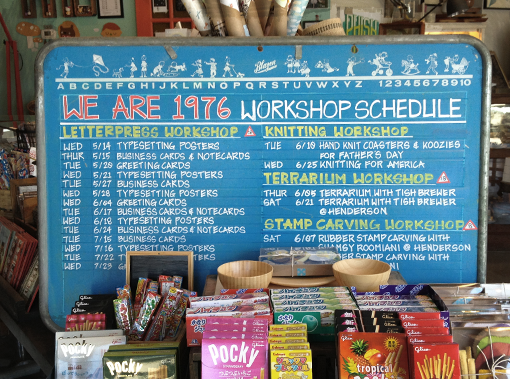 Workshop Schedule: We Are 1976
Put your inner artist to work.
Discover a knack for creativity you may not know you have at  consumer goods store We Are 1979's fun workshops this summer! This shop collects designs from both local and international designers. They aim to provide wearable, lovable, affordable, and livable design in the homes of all nearby, so why not try creating some of your own goodies? Check out the upcoming workshop classes to test your talent in creating a personalized piece for home decor and other cool uses.
Letterpress Workshop
Wednesday, May 14: Typesetting posters
Thursday, May 15: Business cards and notecards
Tuesday, May 20: Greeting cards
Wednesday, May 21: Typesetting posters
Tuesday, May 27: Business cards
Wednesday, May 28: Typesetting posters
Wednesday, June 4: Greeting cards
Tuesday, June 17: Business cards and notecards
Wednesday, June 18: Typesetting posters
Tuesday, June 24: Business cards and notecards
Tuesday, July 15: Business cards
Wednesday, July 16: Typesetting posters
Tuesday, July 22: Typesetting posters
Wednesday, July 23: Greeting cards
Knitting Workshop
Tuesday, June 19: Hand-knit coasters and koozies for Father's Day
Wednesday, June 25: Knitting for America
Terrarium Workshop
Thursday, June 5: Terrarium with Tish Brewer
Saturday, June 21: Terrarium with Tish Brewer at Henderson
Stamp Carving Workshop
Saturday, June 7: Rubber stamp carving