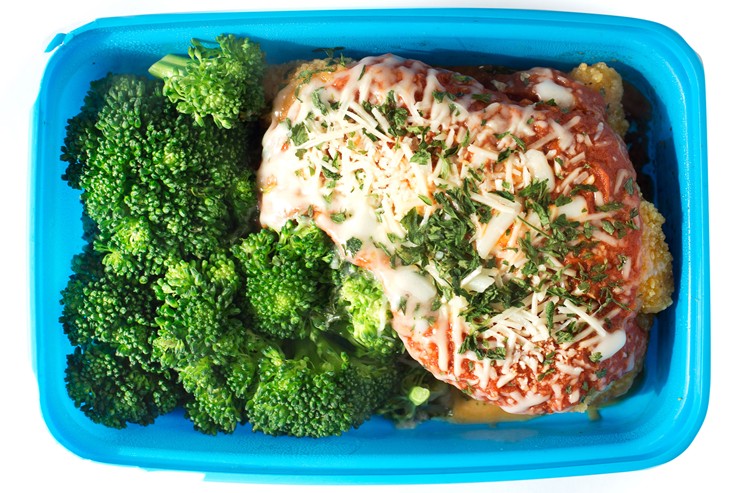 True Stories of the Diet Wars
We're hungry.
Going on a diet is hard. Seriously—I tried it out for the March/April issue of D Home and gained four pounds in the process. Interested in giving one of Dallas' pre-made meal plans a try? Get the skinny first-hand from four D Home editors on what worked (and what tasted terrible.)
Simply Fit: To get started, you need to set up a house account online. You're required to throw down $300 worth of credit, which would last you about a month if you're strictly following the diet. Next, you head to one of their four locations and pick out your meals and snacks. There are different portion sizes, and I went with the smaller one. The first day was tough. I was angry. I was hungry. I like to eat. But as time went on, I started to feel better and my energy level spiked. Hey, maybe there is something to this dieting thing after all!
The breakfast meals are divine — think egg sandwiches, banana nut pancakes, and vanilla flax french toast. Are these seriously diet foods?! I never felt like I was eating "diet" foods, so I would definitely chow down on Simply Fit meals again. Really — I miss that French toast.
So, let's get to the point — did it work? I hate scales, but I will say that eating healthy made me feel better and my pants fit a little looser.
My Private Chef: Are you a carnivore? Then My Private Chef is ideal for you. Meat is what's for breakfast, lunch, and dinner for fourteen out of fifteen of the meals I tried out. Oh man, that was a lot of meat. I think in the one week of eating MPC, I consumed more meat than I had in the rest of 2014 put together. So while you're reading about my experience, keep in mind — I don't eat a lot of meat and that was probably part of the reason I gained four pounds while on this diet.
To start your diet, you'll email chef Holly Muller directly. On Monday, she delivers the food, all frozen, straight to your doorstep. For 5 days you get 15 meals for $150. While I had to repeat quite a few meals due to a food allergy, I felt like there was a variety of flavors, mostly drawing on Mexican and Asian cuisine. There were not calorie counts listed on the entrees, and no instruction on serving size, snacking, ect.
Some of the better dishes were Cashew chicken "fried rice," Ginger pork and turkey meatballs, and coconut steel cut oats with blueberries. I didn't feel great after eating a lot of the meals — my stomach felt heavy and upset (again, probably because my body isn't used to eating a lot of meat). I also missed fresh food while I was on the diet. While I wouldn't try MPC again, I'd suggest it for people who are doing a diet similar to Paleo.
My Fit Foods: As a mom of a two-year-old, MFF's 11 locations and convenient hours made it easy for me to pick up my meals. The diet consists of three meals, plus two snacks. Wait—I get snacks? Score! I can do anything if it involves snacks! I didn't have any sort of weight-loss goal in mind for my process, I just wanted to eat healthier. Any weight I lost would just be a bonus.
While delivery is available through diningin.com, I opted to stop by the Lemmon Ave. location. The meals come in three sizes and are helpfully labeled with calorie count, portion size, freshness date, and cooking instructions. Dinners were the hardest meals on this diet. They are no carb, which makes them less than satisfying in my opinion—I have never said "no" to carbs. . . ever!
While on the diet I didn't lose any weight, which isn't surprising because I cheating a few times, but I also didn't gain any weight either! Being on the MFF diet made me more self-aware of the amount of calories I was taking in each day, which is a good thing. I think I could sustain this diet if I picked up their lunches, making my own breakfast and dinners.
Gourmaleo: I was excited to start the Paleo diet—something I've heard of but had never tried before. To start your out, email the owner with your information, and they'll create a login for you. While the website frequently crashed (frustrating), the owner was extremely fast and responsive via email. There's a $100 weekly minimum to order, and delivery can happen either once or twice a week. The food was delivered to my door step fresh, and it looked pretty good (albeit intimidating), and I was ready to dig in.
Overall it was pretty good. For breakfast, I switched off between sweet potato pancakes, and banana bread french toast every morning — which wasn't great and I don't think I'll be wanting either of those again soon. My favorite dishes included the BLT grass-fed burger and lemon herb braised pork. The meal plan felt a little indulgent, which I guess is a good thing since it means I didn't feel deprived, but I also didn't feel "healthier" per se.
I lost a couple pounds in the process, which was nice. If you don't like to eat a lot of meat, you won't like Gourmaleo. I consider myself a heavy meat eater, and even I was sick of it by Friday.
A condensed version of this story originally ran in our March/April issue of D Home.