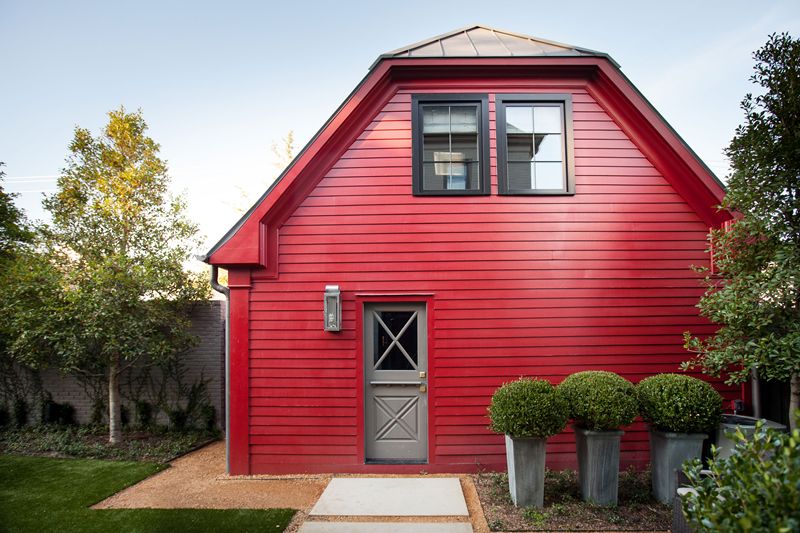 Freshen Up Fridays: The Man Cave (Garage)
Take your garage from cluttered to, dare we say it, cute.
With the changing of seasons, the inevitable spring-cleaning bug tends to bite — sometimes hard. Here to help you organize those spaces in your home that need a little freshening up, Audrey Swanson is picking the minds of local professionals to share their tricks of the trade on home organization.
I bet when you think of your garage the first adjective that comes to mind isn't cute. Just a guess.
I imagine dusty, dark, and disorganized might come before anything similar to the word "cute." Maybe you use yours for your guy's man cave or as a place to store old junk; either way, Mandy Barnes with Metroplex Home Organizer has a few ideas to take your garage from slightly jumbled to fresh, clean, and perhaps even adorable.
One of her brilliant ideas involves Mason jars, so I'm sold. Check out her garage organizing advice:
1. Go vertical. Wall shelving is most accessible in the garage when it is vertical to allow for maximum storage. Ceiling shelving units are a great idea for suitcases or boxes of items you don't use so often, like holiday decorations. But don't forget to get a stepladder for these options!
2. Hang up AMAP (as much as possible). Tools, ladders, weed eaters, and bicycles can all be hung up on the garage walls with the right hooks. Try steel magnetic pegboards for the tools.
3. Stick a label on it. Every box needs a name, even if it's a clear container. Sometimes you can't see exactly what's in there, so go on and label it all. Tip: For the little guys like nails, screws, and tacks, try screwing lids of Mason jars to the bottom of a shelf and then filling up the jars with the items. Screw the jar to the lid and voila! You have a clear view and easy access to the small stuff. (Told you it was cute.)
4. Lock up hazards. Oils and paint should be difficult to get to, especially if you have children, so keep these in a lockable cabinet. Keep a bag of cat litter here too; in a paper bag, it's helpful when disposing non-recyclable latex paint and removing grease and oil spots.
5. Make some space. The garage often becomes a place of forgotten storage. It can become an awesome workspace with the purging of unusable or unneeded junk, so give yourself the luxury of giving it away.
Audrey Swanson is a D Home and D Weddings intern.