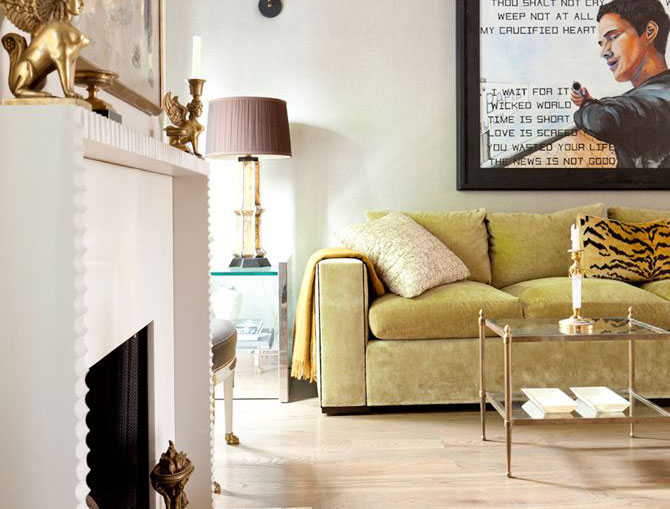 Freshen Up Fridays: The Family Room
Tips to keep the family room from getting frantic.
With the changing of seasons, the inevitable spring-cleaning bug tends to bite — sometimes hard. Here to help you organize those spaces in your home that need a little freshening up, Audrey Swanson is picking the minds of local professionals to share their tricks of the trade on home organization.
We get that a lot of family rooms are designed around fashion rather than function. Hey, I decorated mine with the idea that Beyonce might see it someday. (A girl can dream, right?) But finessed décor doesn't always translate to livability. A variety of activities go on in the family room, but we would prefer to keep it an area for relaxation rather than a chaotic dump for arbitrary items.
Certified professional organizer with First in Organizing Shirley Falls came to the rescue this week with her simple solutions to a more manageable family room. See her finest four below:
1. Keep flat surfaces flat. Get a rack for magazines you want to browse through later on and have designated drawers for remote controls, unused coasters, and other little bits that go forgotten on family room surfaces.
2. Forget all the frames. We all love to see our wonderful families' beautiful, smiling faces framed on walls, shelves, and coffee and end tables…but there comes a point when it can be too much. Try finding a couple collage frames or a digital frame to display multiple photos in a concise way. Who has time to dust 46 picture frames, anyway?
3. Moderate the media. DVDs, books, magazines, and CDs can easily accumulate in random drawers and shelves all over the house, and especially in the family room. If you haven't read that Jane Austen novel in 17 years or watched Ocean's 11 in another five, it might be time for them to go. And if you still own VHS tapes, it's really time to purge. For the remainders, store like items together in labeled drawers, baskets, or bins. Tip: With limited space, try the one in, one out rule. Every time you buy a new DVD, for example, find one you never watch and add it to your donate pile.
4. Set goals. Is this room a spot to relax? Play games? Watch every season of Grey's Anatomy on Netflix? (What? I don't do that…) Have an idea in mind for how exactly you want your family room used. If you have a separate place for working on emails (like, say, that freshly organized home office), then maintain that separation of activities and spaces to help things stay uncluttered.
Audrey Swanson is a D Home and D Weddings intern.