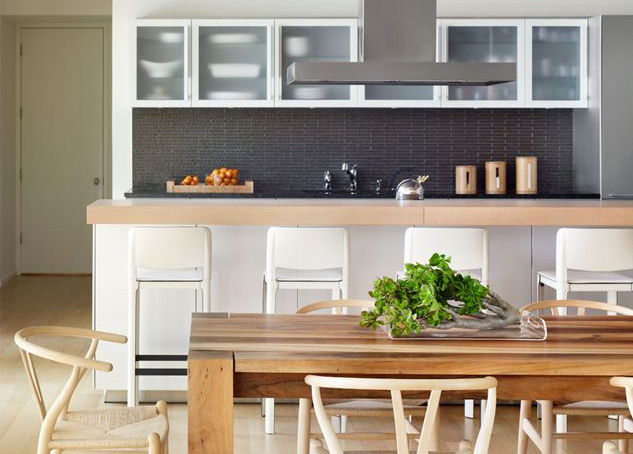 Freshen Up Fridays: Five Cleaning Products For The Whole Home
We're just trying to keep it clean this spring.
With the changing of seasons, the inevitable spring-cleaning bug tends to bite — sometimes hard. Here to help you organize those spaces in your home that need a little freshening up, Audrey Swanson is picking the minds of local professionals to share their tricks of the trade on home organization.
I have a confession: I'm a bit of a clean freak. (Has writing this blog series given it away?) I cringe at piled up dishes in the sink or dust bunnies in a corner. Glistening countertops and floors clean enough to eat off of are a few of my favorite things, but I know that sometimes when schedules start to get messy, so do our homes. That's why this week, instead of focusing on home organization, we're going a bit deeper into cleanliness.
At my house, we have an entire closet dedicated to cleaning supplies. Some we use often, others are gathering the dust they're meant to sanitize. Thinking about this closet dedicated to cleanliness–a common happening in lots of homes–I wondered if it is even a necessity. So I asked Melinda Massie, owner of Organizing with a Side of Fabulous, what five products she'd recommend for her clients if they could only have these to clean their entire homes. See if you could do it all with this team of five.
1. Mr. Clean Magic Eraser: This baby can clean practically anything. Stains on dishes, Sharpie on dry erase boards, marks on walls. Massie says she was so impressed the first time she tried the erasers that she used them on all her home's surfaces, practically using up the entire package.
2. Bar Keeper's Friend products: What the Magic Erases can't get, these cleaners and polishes can. It's best used on white ceramic sinks and tubs or tile floors or walling.
3. Swiffer products: From the wet jet to the duster, Swiffer's got what you need to pick up dust and grime off every surface. This is for those who hate mopping (which, hello, is all of us) and who only have a few minutes to wipe down floors or rid ceiling fans of that inch-thick dust layer. (You know what I'm talkin' about.)
4. Scrubbing Bubbles Fresh Brush Starter Kit & Caddy: Another tool for quick maintenance, these guys get the toilet-cleaning job done. With flushable scrubbers, there's no need to worry about germs sticking around post-cleaning. Scrubbing Bubbles also has awesome, antibacterial flushable wipes for bathroom surfaces that even cut through dried toothpaste.
5. All-purpose spray: There are tons and tons of sprays to choose from, but Massie recommends Method in the lavender scent. Or if you're more into DIY projects, try mixing half water, half rubbing alcohol, and a capful of ammonia.
Tip from the pro: Massie urges to maintain messes on the daily. Cleanup after cooking and if you spill, wipe it up right away rather than putting it off. It you are cleaning in small increments, you will save precious time on the weekends when you won't have to do a deep clean session so often.
"After all, the whole point to organizing and cleaning your home is to help you enjoy your life," she says, "Not waste your life cleaning and organizing your home!"
Audrey Swanson is a D Home and D Weddings intern.