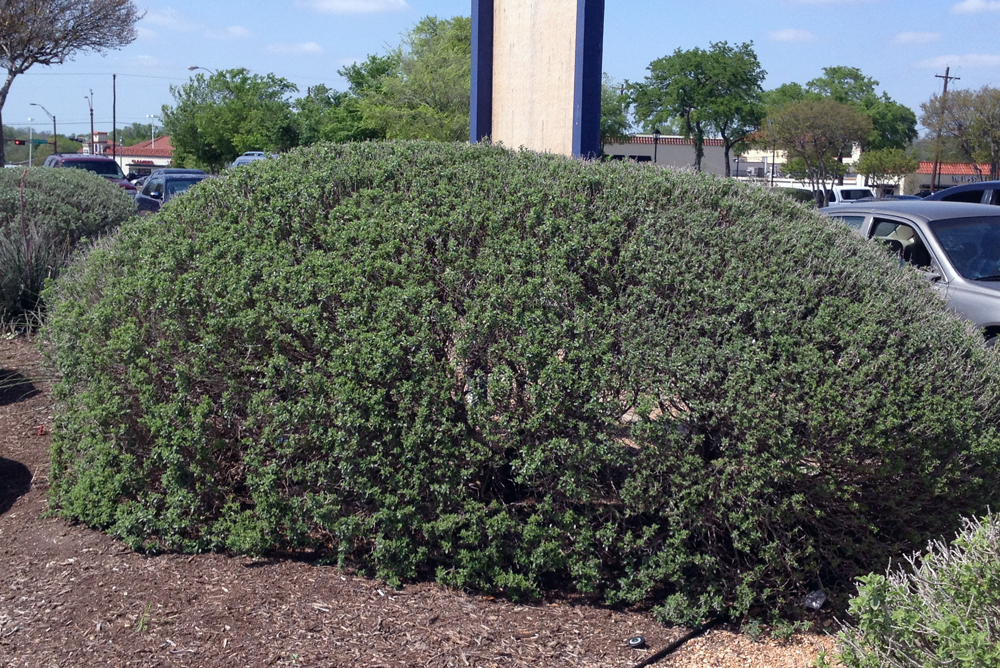 Dear Dallas: Back Away From the Hedge Trimmers
Not every pant wants to be a topiary.
I'm always impressed when I see a commercial landscape renovation done right, at least at the get go.  To have a beautiful landscape in the summer, designers have to select Texas tough, water-wise plants and arrange them in a thoughtful and logical way. The goal is to create a public space that is both beautiful and can survive the summer water restrictions. You know — like a parking lot you'd actually find attractive. But then someone picks up a power trimmer and it all goes to you know where in a hand basket.
Power tools are fun to use. I get it. But seriously, there's a time and a place to employ them. Certain plants shouldn't be used if the plan is to shape them into a boxed hedge, cone or golf ball. Texas sage, shrub roses and ornamental grasses are such plants.
The whole point of landscaping with these tough specimens is that you don't have to over-work yourself by over-working them.  Their growth habit neither requires nor tolerates regular shearing. Not to mention that when you do shear them, you lose out on all those flowers. Weren't their blooms a big reason you planted them in the first place?
The Texas sage shrubs in the photo above were once very beautiful, at least for a little while after they were planted. Now they're regularly sheared into bizarre caterpillar forms that are truly inexplicable. Eventually, these poor plants will thin to the point where they'll have to be removed. The sculptors have also done a number on the 'Knock Out' roses; once beautiful, now bloom-less boxes. Well, there are a handful of flowers left, but I'm sure they'll get rid of those with the next shearing.
Now, this sort of horticultural abuse goes on in plenty of residential landscapes as well. Loropetalums and nandinas don't like being hedged any more than Texas sage. The mushroom balls that everyone's yaupon hollies have been shaped into for no good reason also perplex me. Plants don't have to have two feet of space between them in order to be "tidy". Sort of defeats the point of planting a "hedge".
My advice? First, choose the right plant for the right place. If the goal is a formal boxed hedge, choose plants that actually tolerate regular shearing. Also, don't plant something that's going to grow bigger than the space or sight lines you have, or you'll end up butchering them out of necessity. Next, put down the power hedge trimmers and pick up a pair of hand pruners. Tip pruning is a much more effective way to keep shrubs in bounds without destroying their natural shape, blooms or vigor.