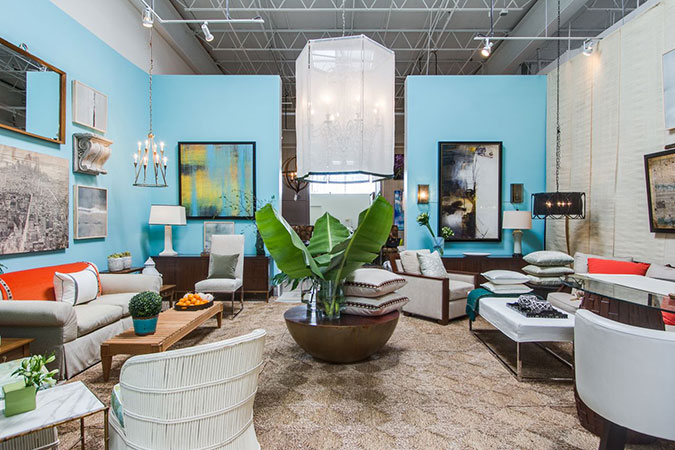 6 Questions with Thrift Studio Designer Julio Quiñones
Take a peek into his Golden Girls inspired room.
There are tons of reasons behind our love for Dwell with Dignity's Thrift Studio. First of all, we're big believers in good karma—and if we can get it while shopping, even better. Second, they recruit local designers to create the vignettes, reminding us that Dallas is full of design stars.
Take Julio Quinoñes, for example. We already knew we liked him because of his fantastic work when helping D Home president Christine Allison design her favorite space in her home. His Thrift Studio vignette just took our warm and fuzzy feelings to the next level. Were you able to purchase a piece of his room? Even if you weren't, here's what inspired him throughout the design process.
D Home: What's your background?
Julio Quinoñes: I was born in Mexico and studied design in Dallas.
D Home: When did you realize you wanted to be an interior designer?
JQ: In my teenage years I was working for a contractor doing home renovations. That experience was a great stepping stone to becoming an interior designer.
D Home: Why did you want to be involved with Thrift Studio?
JQ: I felt it was a great cause and liked that it involved design and transforming finds into something marketable for them to raise money.
D Home: What was your inspiration for your vignette?
JQ: My inspiration was "Golden Girls" gone mod. I tried to make something fabulous from a warehouse of odds and ends. What stood out was the bamboo furniture, which reminded me of the "Golden Girls." I tried to make it look as cool as possible for today's trends in design.
D Home: Where are some of your favorite local spots for inspiration and shopping?
JQ: I like to go to Culp Associates and Nick Brock Antiques for furniture and ideas.
D Home: Do you have a tip for our readers on how to refresh their home for spring?
JQ: My spring tips for readers are to declutter, use solid colored pillows in linen, and pick up a fresh orchid from your local florist or grocery store.