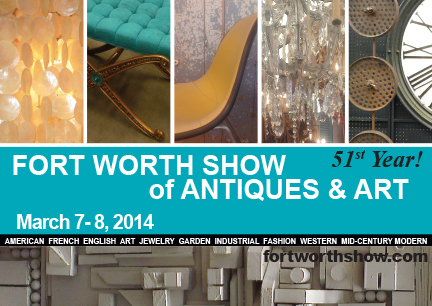 Pencil this in: Fort Worth Show of Antiques & Art
This event is good as gold.
Do you love vintage clothing and jewelry? Or maybe you're a French antiques snob? Regardless, you'll want to stop by the Fort Worth Show of Antiques & Art for a little (or a lot) of fashion, art, and furniture shopping this Friday (9 am to 7 pm) and Saturday (9 am to 5 pm).
One hundred and twenty vendors from all over the nation are gathering in Fort Worth to celebrate 51 years of showmanship. Mid-century modern will be the largest category this year, although English, Western, Industrial, and American antiques will also be up for sale.
Seven dollars will gain you admission for both days, and parking can be refunded with a purchase.
Other activities (besides shopping, of course) include a new-meets-vintage fashion show, the benefit booth sponsoring Dwell with Dignity, and vignettes where you find inspiration on how to mix different styles of antiques together for a cohesive look.