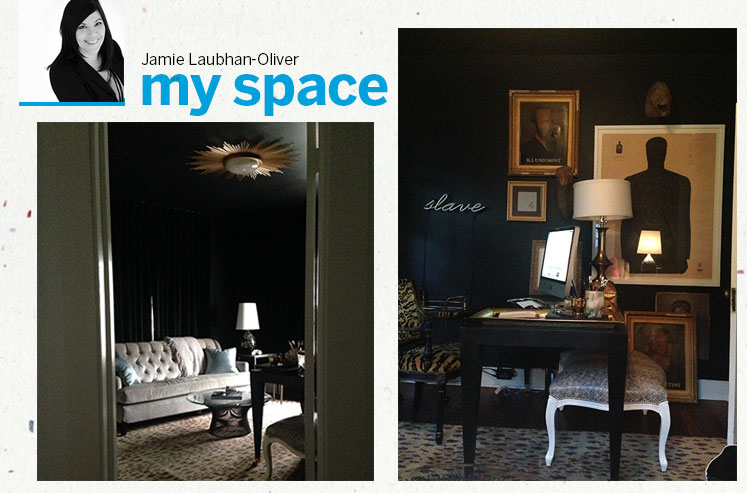 D Home Art Director Jamie Laubhan-Oliver's Treehouse Office
She styles the pages of our magazine, but how does she style her home?
There isn't one room in my house that I completely love. My home is a work that's constantly in progress. If I had to guess, I think my husband and I will be "done" with this place in about four years — that'll be about the time we put it on the market. When I'm done with a project, I get bored.
We sold our townhouse in the Cedars a little more than a year ago and purchased a historic home in Winnetka Heights. We were immediately sold on the giant wraparound front porch and the 100-year-old screen door. Since moving in, our office has kind of become my favorite room. Let's be clear, it's not because I love to work. But it's on the second floor, and it has a giant window that overlooks the trees. When you're in the room, it's very much like being inside a grown-up tree house. I painted the entire first floor a gallery white to make it light and airy. This room is the exact opposite. I went 100 percent black on the walls and ceiling. It's so calm and serene—like a cocoon. I had custom black, floor-to-ceiling, wool drapes made to add texture and richness. They're practical, too. When I'm working on my computer and don't want a glare on my screen, I pull them shut.
I have a few things that I love in this room. I found the 1970's bronze Platner table in an abandoned warehouse. (When does that happen?) I bought the target artwork at the estate sale for Dorothy Franey Langkop, an Olympic medalist in the 1932 and 1936 Olympics. She lived in Highland Park. I bought the velvet sofa from the Kravet Showroom. It's one of those pieces that will travel with me and remain even as my style evolves.
–  Jamie Laubhan-Oliver