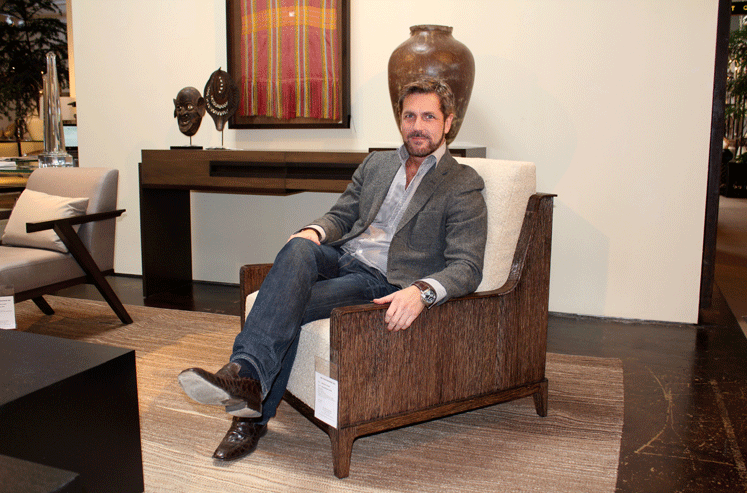 My Meet -Cute with Furniture and Interior Designer Robert Marinelli
Meet my new crush.
Last week, I had a date with Robert Marinelli. Okay. It wasn't actually a date. Margaux was there. And we met him at Allan Knight because the showroom is now carrying his eponymous furniture line. So it wasn't exactly romantic, but Marinelli is very charming and debonair. While I stared deeply into his eyes, I broke the ice with a question about the handsome "midcentury-inspired" Marceau chair he was sitting in. "I love the detail that wraps all the way around—almost like a frame. It borders the chair with lots of curves and textures. It walks the line—it's modern but the details and finish make it softer, warmer, and a more approachable piece of modern furniture. It has a vintage feel," he says.
The interior designer has offices in both New York and Los Angeles and has been designing furniture for about 25 years. He says he has loved Texas for a good while. "A long time ago, when I was going to military school, I knew two girls who were from Fort Worth. They were really fun, eccentric girls. I would come here and they would take me to the Starck Club. I was underage, and we would get in the backseat of the big stretch limo and do a lot of fun things that we weren't supposed to do," he says. "If Texas people are your friends, they are your friends. They will get a gun and protect you. Conversely, if they aren't your friends, they really aren't your friends."
While I tried to become his best friend, I was seated on one of Marinelli's super stylish-but-comfy sofas. I told him that it was the perfect perch from which I could watch a Real Housewives marathon. He did not disagree with me on the comfort, but he says he prefers to watch a little Turner Classic Movie action. He finds a lot of inspiration in those films. As for favorites, he says, "Grand Hotel with Greta Garbo is deluxe and over-the-top. Mrs. Skeffington. Mildred Pierce. The juxtaposition in The Women is very interesting—the Connecticut house versus her house in New York City. There are two dramatically different styles, but each is appropriate for the respective place."
Similarly, Marinelli strives for variety in own collection. I don't want a collection that's formulaic. Overall, you don't necessarily think that it's from one person and one collection," he says. "If you're looking at an Edric sofa, you might not necessarily know that the Metropolitan table is from the same collection."
Go check out the goods at Allan Knight. You'll be happy you did.