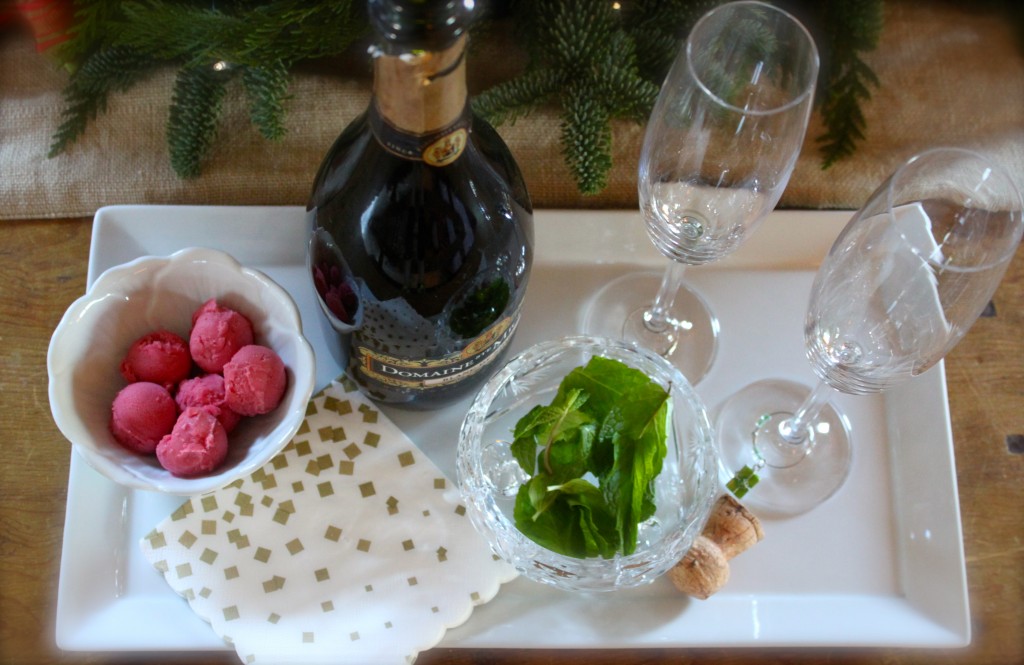 Drink Up: Champagne Cocktail with Raspberry Sorbet
What's not to love?
New Year's Eve is all about reinvention and renewal. So this year, instead of serving your guests just plain ol' Veuve Cliquot and Ace of Spades (read: Cook's and Andre), why not spice things up with a new twist on the standard Champagne toast? There are a million Champagne cocktail recipes out there—this one, for instance, looks pretty tasty, but who has the time or energy to make your own ginger syrup? Let's be honest: On nights like New Year's Eve, you want as few steps as possible between you and your first hangover of 2014.
Herewith, I bring you a simple but delicious Champagne cocktail recipe. In addition to bubbly, it involves upscale ice cream, so I really don't see any room for complaint.
Here's what you'll need to make it:
•Bottle(s) of your favorite brand of Champagne or sparkling wine
•Raspberry sorbet
•Mint sprigs, for garnish
Here's how you make it:
1. Prior to serving, scoop small spheres of sorbet with a melon baller and place on a wax-paper-covered plate or baking sheet. Place in the freezer to harden.
2. Wash mint leaves and remove from stem.
3. When ready to serve, place frozen sorbet balls in a bowl. Fill flute 3/4 full with Champagne, then drop in a sorbet ball. Watch all the fun, fizzy action. Garnish with a mint leaf if you're feeling fancy.
4. Sip in a ladylike fashion until no one is watching, then down the glass. Repeat.
In all seriousness, we wish everyone a safe and happy new year. And if you plan to drink—Sorbet Champagne or otherwise—please designate a sober driver or call a cab.
*Recipe and image courtesy of burlapandcrystal.com