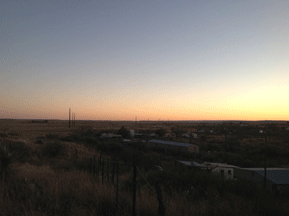 It's Monday, and our friend Jim Williamson has some thoughts on his recent trip to Marfa. First, let me start by apologizing for that last post. It was so long I felt like I was watching Ain't Them Body Saints—pretty to look at but someone really needs to yell, "CUT!" I'll try to keep the word count on this and future posts to a minimum. Let's just skip from where we left off, Montevideo, Uruguay, and go straight to Marfa, Texas. That is only about a 7,000-mile stretch from coast to desert. Kind of like what it seems like to cross Texas.
When I told people I was going to Marfa for a long weekend some asked,"Where is Marfa?" Some asked," What is a Marfa?" Others said, "Well, have fun on your trip, and give my best to your friend 'Martha.'" So for those of you who have never been or maybe even for those who have been and might still be confused, let's try to explain what Marfa is and maybe even what it is not. Marfa is a not a large town. It is small. It's under 2,000 people small and sits in the in the middle of the desert. It's probably not your first choice to take the kiddos for a two-week vacation.
Marfa doesn't care if you have washed your hair today (or even the day before or even the day before that.) But for those of us visiting from the big city, please keep the hair washing to at least a three-day rule. Marfa doesn't care about designer clothes (there is no dry cleaner here). You can get custom-made boots made in Marfa if you already on the eight-month-long waiting list and really like the one particular style. There is lots of sun and lots of sand and lots of wind. If you think you have packed enough lip balm,  think again.
Marfa doesn't care if you like eating at a certain time of day because Marfa works on Marfa time. Marfa time is defined by "Open when we're open." This could mean a shop opens up at  2 p.m. instead of 10 a.m., if they decide to open at all. If they happen to run out of food at lunch, well, they will politely close the door in your face. It's Marfa people. It ain't Vegas.
In Marfa, you may find it difficult to find all the ingredients needed for Bolognese should you decide to have an impromptu dinner for 10 of the closest friends that you've just met in Marfa that day. And should some think that it is a 1950s-themed dinner party (I have no idea where this idea came from) and spend the day making Baked Alaska for dessert and beet soup for a starter, well that's just how Marfa works. So roll with it. It's all so fun, and the people there are all amazingly intellectual and funny.
You will see the same people throughout your stay, whether you know them or not, so it pays to be nice to everyone. The person serving you a sandwich might also own the local grocery and even the place you are sleeping. I have found people in Marfa have many jobs. But as small as Marfa is, it can also be huge with its vast open spaces and beautiful Texas scenery. It also boasts a stash of artists, writers, curators, sculptors, and other keepers of the flame ,along with its trove of contemporary art from new artists at Ballroom and Donald Judd and Flavin at Chinati. You have people from all over the world in Marfa. Occasionally, you will actually meet someone from Marfa in Marfa. Everyone seems strangely young and beautiful. I met writers from New York, professors of political science from Arlington, computer programmers from Kansas, and artists from Chicago and Germany, and let's not forget all the designers and architects from Dallas and Houston and San Antonio in for Design Marfa.
Design Marfa meant home tours and espying how people live in Marfa. Think reconstructed, relaxed, recycled, cool, and vintage with a definite reference to Texas and its desert surroundings. I saw lots of great vintage pieces mixed with pieces by local and national artists. It's all about the high and low You can mix a Julie Speed with some wallpaper adorned with squirrels next to your vintage Eames find. And speaking of Eames, I got to meet Eames Demetrios, the grandson of the famous Eames. By meet, I mean I was at the same cocktail party.  I took a picture with him. (Really, it was a selfie with Eames in the background.) But when I looked at the image to post (with some new and totally creative hashtag), all I could see were the layers of French sunscreen I had slapped on to protect me from the desert sun. I look like a combination of True Blood extra combined with a little touch of Baby Jane Hudson. It was totally understandable why a woman came up to me and asked if I was feeling okay. I was, but my face was not.
I certainly wasn't expecting to be served an expensive French wine with an entrée of barramundi in a lemon broth in the middle of the desert, but there we were under an arbor of trees on the crunchy gravel beneath the starry cool skies, being served just that by a young chef at Cochineal. I also didn't expect dessert to be followed with a performance by UK folk singer Laura Marling. She lulled the town into a chanteuse dream, courtesy of Ballroom Marfa.All of  that happened. I also saw my first Tesla in Marfa.
I did not get to see the famous Marfa lights on this trip. We had a packed schedule and couldn't do everything. But that's okay because I am pretty sure I'll be back to see them. I personally think the lights are just docents with lanterns running around to their next gig.
You can see the edge of the Milky Way in Marfa, and that was really cool especially on Halloween night at El Cosmico. This place has its own trippy vibe, including the showing of  a certain genre of vampire movies, which played on a wall in the background. The movie was in German with no subtitles. As I was coming back from the bar, fetching some drinks for the gang, I saw our handsome bartender. He happened to be German and had just started his first week in Marfa. He was standing in the middle of the room, watching the movie. I decided to stand next to him. Just as I walked up, he said, "I'm very horny." I was rather flattered until all of my friends quickly pointed out that he was merely translating the film. Then they all burst out laughing
So in keeping this short (Well… —Ed.), that was my Marfa. It's a world full of contemporary art and artists changing the world. But sometimes—more often than not—I think Marfa changes the artist. And you can find all of this next to a tumbleweed and a taco truck, which may or may not serve food. I love this little, bizarre town. From your vistas and slightly odd locals to your incredible art and even your urban legend of Mr. Sputty. (The explanation for the latter is another post at another time for another publication.)
I saw my first tumbleweed and dust devil while driving to see a storefront full of glued-down designer merchandise. I get you Prada. I get you. I also love you because you are just so Texas: big, rough, slightly odd, with a down-home smile and incredible beauty. Here, in the middle of nowhere, there is a sense that anything is possible. It will get done. Eventually.